The term 'Father' is used over and over in Scripture to describe God, and the word 'children' is used to describe us.
Whether you've had a great father image or your father has been absent from your life or possibly even destructive, God wants to be your Father. And he wants you to be a member of his loving family, the church!
Story:
Many people can identify at some point with this story. Growing up in a military family means that you could have gone through a divorce or long periods of separation or even the death of a father. Often, the way we see our dad is a direct reflection of how we can relate to God as our heavenly father. See how you connect to this story:
"My father abandoned his wife and four children when I was young. I never saw him and never heard from him and until I was 18 I believed he was dead. When Aunt Emma, my father's sister, told me he was alive, I was astonished. I gave her my graduation picture to give to him, and hoped he would contact me. He never did. Later, when I committed my life to Jesus, I developed a relationship with Him and knew His love. Yet I was afraid of God the Father. Knowing Him as a tender and loving Father seemed impossible. One day I learned that my father had died. My deepest prayer to meet him would not be fulfilled. I felt an enormous hurt, and visited Aunt Emma. She told me a little about his life and death, and said he decided not to see me because he was too ashamed of his behavior as a young father. He must have known, through her, that for 17 years I had asked about him. I stood near his grave engulfed in anguish. My search was over.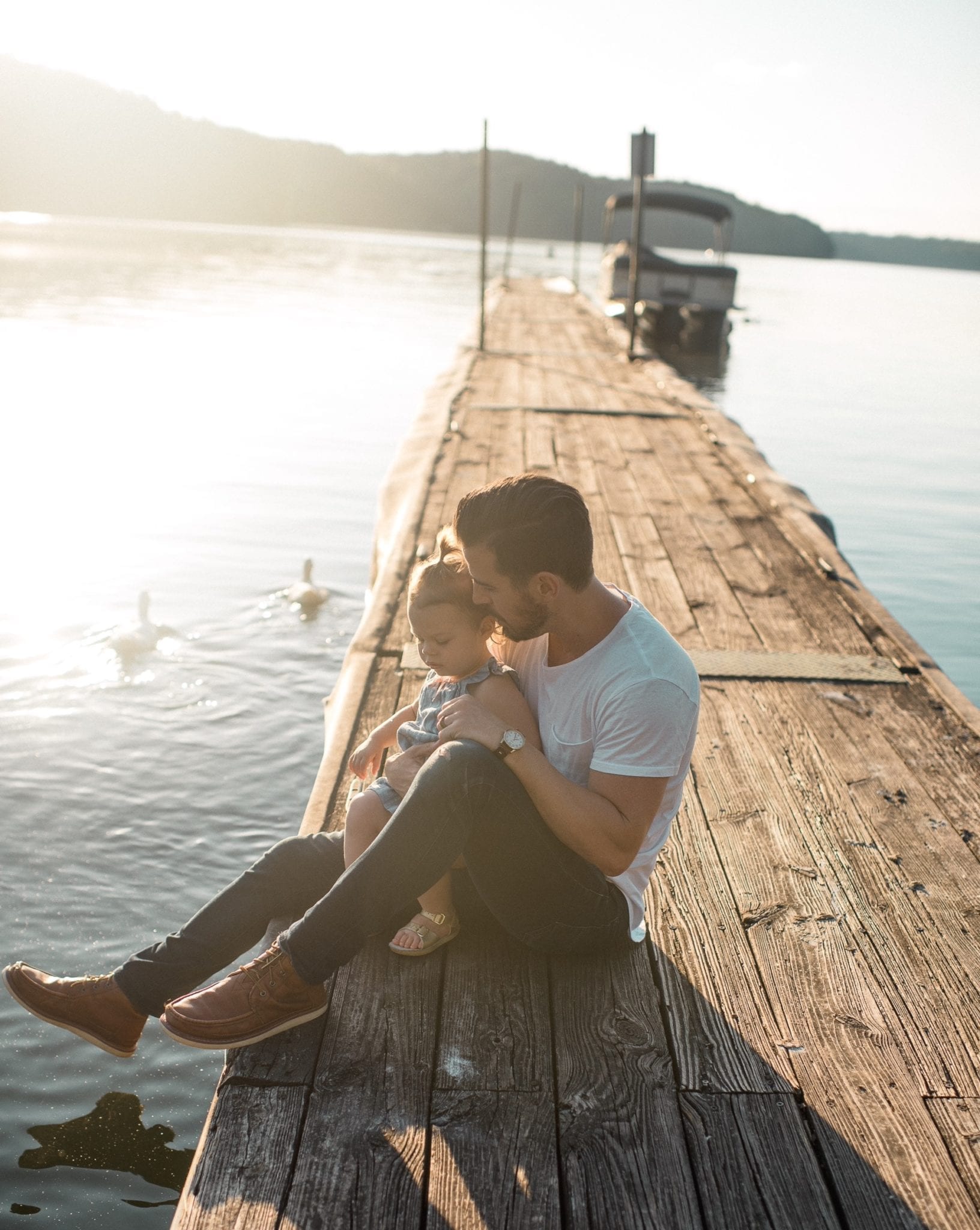 This was as close as I would ever get to my father. I cried out to God, 'It's too late, too late! I have no father!' At that point I heard a voice say, 'I am your Father.' I turned around but no one was there. Again I heard the words, this time softer. 'I am your Father.' It was hard to believe at first, but the God I had feared spoke to me. I felt His love surround me. Because God revealed Himself to me as Father, I no longer feel the hurt of an abandoned child, nor the pain from my fruitless search. I was healed so that only the memory and none of the pain remains. That afternoon in the lonely cemetery changed my life. Where God was once only a remote figure of the Trinity, He is now the Father I talk with, walk with, and praise each day. I realize this wonderful Father loves all His children so much that He patiently awaits the day that He can draw us close to Himself forever."
(Taken from Healing Through the Mass pages 24-25 by Robert DeGrandis, published in 1992 by Resurrection Press)
In the magazine titled Christianity Today, Jim Spiegel from Taylor University, writes about an interesting connection to our view of our fathers and our ability to accept God as our father. In discussing some prominent atheists over the past centuries he states,
"External factors may also hamper the natural awareness of God and contribute to a descent into atheism. In his book Faith of the Fatherless: The Psychology of Atheism, New York University psychologist Paul Vitz, a onetime atheist, examines the lives of the major atheists of the modern period, including Hobbes, Hume, Voltaire, Feuerbach, Nietzsche, Sartre, Camus, Russell, and Freud. He found they had something in common: a broken relationship with their father. Whether by death, departure, abuse, or some other factor, the father relationships of all these well-known atheists were defective. Vitz also examined the lives of prominent theists during the same period (Pascal, Reid, Burke, Berkeley, Paley, Wilberforce, Kierkegaard, Schleiermacher, Newman, Chesterton, and Bonhoeffer, among others). In every case, he found a good relationship with the father or at least a strong father figure."
Bible intro:
This passage demonstrates God's tenderness and love toward us as his children. This relationship is made possible because of Jesus Christ.
Personal Questions:
What kind of relationship do you have with your father? Do you think it shapes how you see God as "Father?"
What ways did you identify with the story above? Have you ever heard God's voice speaking to you and revealing himself as your father?
Have you ever realized how much the Scriptures describe God as our Father? What's the way that we become members of God's family?
With God as Father, the church becomes family. Which of the descriptive words used in the Scriptures to talk about the family of God do you like best ? (see supplemental Scriptures.
Are there any of the supplemental Scriptures that resonate with you specifically? Why?
Prayer:
Dear God,
I really want to get to know you as my heavenly, spiritual father. I want to have a personal relationship with you as my father. And through Jesus Christ, I want to be a member of your family, to be your child, to reflect well what it means to be your child. Thank you for your deep and abiding fatherly love. In the name of Jesus Christ, Amen.
411:
Known by some as "The Lords' Prayer," it is known by others as the "Our Father" or "Pater Noster." When Jesus was asked by his disciples to teach them how to pray, he said this (recorded in Matthew 6:9-13):
9This, then, is how you should pray:
'Our Father in heaven: May your holy name be honored;
10may your Kingdom come; may your will be done on earth as it is in heaven.
11Give us today the food we need.
12Forgive us the wrongs we have done, as we forgive the wrongs that others have done to us.
13Do not bring us to hard testing, but keep us safe from the Evil One.'
If you want to hear the prayer prayed in the original Aramaic language that Jesus used, check out this site (the audio will start automatically after 5 seconds).
Challenge:
See if you can identify:
How are we actually able to call God our Father?
How have we been able to be a part of God's family with his other children?
According to this, are you a member of God's family (his body, his church)?
1 Peter 1:17-24
17You call him Father, when you pray to God, who judges all people by the same standard, according to what each one has done; so then, spend the rest of your lives here on earth in reverence for him. 18For you know what was paid to set you free from the worthless manner of life handed down by your ancestors. It was not something that can be destroyed, such as silver or gold; 19it was the costly sacrifice of Christ, who was like a lamb without defect or flaw. 20He had been chosen by God before the creation of the world and was revealed in these last days for your sake. 21Through him you believe in God, who raised him from death and gave him glory; and so your faith and hope are fixed on God. 22Now that by your obedience to the truth you have purified yourselves and have come to have a sincere love for other believers, love one another earnestly with all your heart. 23For through the living and eternal word of God you have been born again as the children of a parent who is immortal, not mortal. 24As the scripture says, "All human beings are like grass, and all their glory is like wild flowers. The grass withers, and the flowers fall, 25but the word of the Lord remains forever."
Words:
God Knows Best
by Helen Steiner Rice
Our Father knows what's best for us,
So why should we complain–
We always want the sunshine,
But He knows there must be rain–
We love the sound of laughter
And the merriment of cheer,
But our hearts would lose their tenderness
If we never shed a tear…
Our Father tests us often
With suffering and with sorrow,
He tests us, not to punish us,
But to help us meet tomorrow…
For growing trees are strengthened
When they withstand the storm,
And the sharp cut of a chisel
Gives the marble grace and form…
God never hurts us needlessly,
And He never wastes our pain
For every loss He sends to us
Is followed by rich gain…
And when we count the blessings
That God has so freely sent,
We will find no cause for murmuring
And no time to lament…
For our Father loves His children,
And to Him all things are plain,
So He never sends us pleasure
When the soul's deep need is pain…
So whenever we are troubled,
And when everything goes wrong,
It is just God working in us
To make our spirit strong.
Audio:
Part 1
Part 2
Part 3
Part 4
Scripture:
Jude 1:1-2
John 1:10-13
1 John 1:7
Philemon 1:6
1 Corinthians 16:13-20
Romans 12:5
Ephesians 4:12
Ephesians 1:23
1 John 5:1
Matthew 5:9
Ephesians 4:17-32
Philippians 2:1
1 Corinthians 12:27
Romans 8:14
Small group guide:
SMALL & LARGE GROUPS – God As Father SG
Video:
This video is about a coalition of denominations and churches called Church World Services. This video demonstrates the way that the church can be family to people all around the world as well as in your personal life. As God's children, doing things that help push back the darkness help define what kind of family it is and who their father is. Below is their mission statement and values. Take a look:

Founded in 1946, Church World Service is a cooperative ministry of 37 Christian denominations and communions.
Mission Statement
Church World Service works with partners to eradicate hunger and poverty and to promote peace and justice around the world.
Core Values
Church World Service seeks to express all of these values locally and globally throughout its life and work:
Embodying the love of Jesus Christ
Respecting all faiths and traditions
Working with the most vulnerable
Promoting the dignity and rights of all people
Advocating a social, political and economic order based on peace and justice
Working ecumenically
Working in partnership
Supporting the integrity of creation
Being responsible stewards of resources
Large group guide:
SMALL & LARGE GROUPS – God As Father LG
Bible passage:
Galatians 4:4-7
Life Questions:
Make a list of the ways your relationship with your own father has helped you in a relationship with God and list some characteristics that your father has that reflects the God of Scripture. Ask God to heal any hurts or negatives issues that you may have experienced with your own father and thank God for positive ways that your father has pointed you to God as your spiritual father.
Try going to this site and type in "God the Father." See how many references you get concerning God being our father in Scripture. Read through some of them and try to understand the significance of this relationship. Next, type in "children of God." Look at these verses to get an understanding of how to be a part of God's family so that he is your spiritual father. If this connection through Jesus Christ is not part of your life experience, talk to someone like a chaplain or a Club Beyond leader about what it takes to become a part of the body of Christ with God as father.
Lol:
This section is just for laughs and may or may not have anything to do with the topic! ; )
Ripping Paper Was Never So Funny from kidsarecute on GodTube.
---