Executive Board
---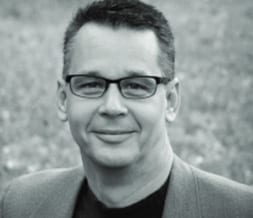 Kevin Weaver
President/CEO
Kevin serves as President/CEO and Co-Founder of The Warrior's Journey and is a US Air Force veteran. He served in the USAF Security Forces at the 24th SPS and in the Office of Special Investigations at U.S. Southern Command in the Republic of Panama from 1983-1987. Leveraging his 30 years of pastoral leadership experience, he is utilizing his skills to help develop and advance the vision of The Warrior's Journey to help veterans and their families.
Kevin and his wife KyAnne have three sons; Kaleb and his wife Michaelah and twin daughters, Norah and Charis, staff Pastors at Abundant Life Church, Lee's Summit, MO; Keith, Capt. U.S. Army Special Forces, Ft Bullis, TX. along with his wife Kelli and their children, Thomas, Taylor, and Jill; and Klay and his wife Amanda, Capt. U.S. Army Armor officer, 1st Infantry Division, Fort Riley, KS.
---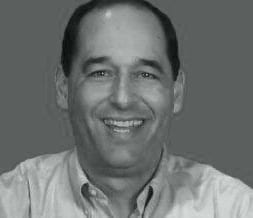 Mark Flattery
Chairman
Dr. Mark Flattery serves as Chairman of the Board and Co-Founder of The Warrior's Journey as well as President of Network211.  He is a third-generation missionary who brings eight years of pastoral ministry and thirty years of missionary service to his leadership and visionary roles. He earned a Doctor of Ministry from Fuller Theological Seminary and a Masters of Divinity from Southwestern Baptist Theological Seminary.
---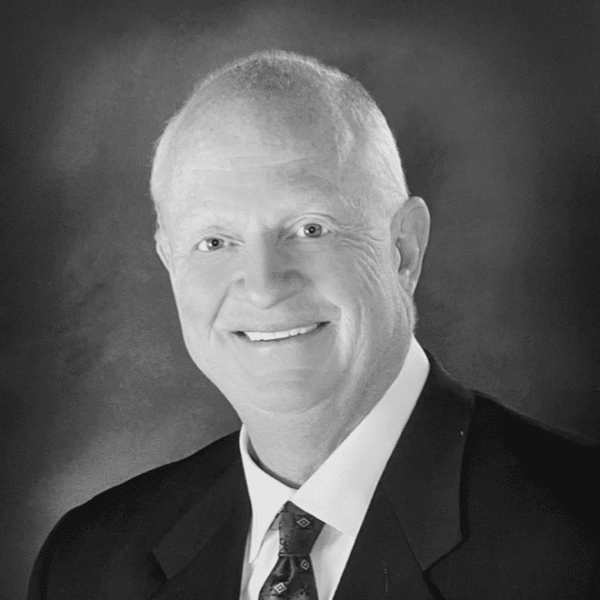 Gary Metzger
Gary Metzger recently retired as the Missouri and Kansas regional chairman of Simmons Bank. He previously worked as Chairman, President, and CEO of Liberty Bank. He received his undergraduate degree in economics and his master's degree from Western Illinois University. Mr. Metzger has been active in several community organizations and is the vice chairman of the Missouri Employees Retirement System Board of Directors. His previous directorships have included the Missouri Bankers Association, ABA Consumer Midwest Lending Committee, Breast Cancer Foundation of the Ozarks, Trust Company of the Ozarks, CDIAC Director for the Eighth Federal Reserve District, Boys & Girls Town of Missouri (Great Circle), and Several Regional Community Banks.
Although he never served in the military personally, Mr. Metzger has the utmost respect and regard for our veterans and current military. His father served in the Army (Infantry, Pacific Command) during WWII, and his father-in-law was a Naval Aviator during the same conflict. He has a long list of friends and relatives that served in the military during Vietnam, including his closest childhood friend.
Mr. Metzger and his wife, Susan, enjoy spending time with their three children and five grandchildren.
---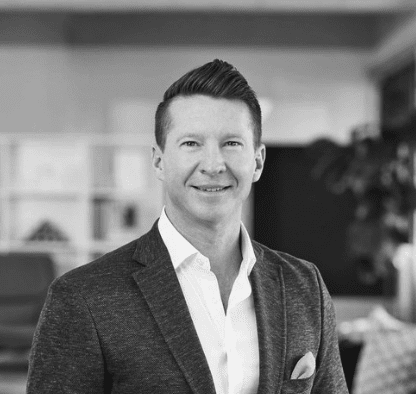 Jonathan Garard
Jonathan, with his wife Audrey, own Grooms Office Environments in Springfield, MO. They purchased Grooms on January 1, 2015 and are celebrating the company's 44th year as a local veteran-owned Springfield business.
Jonathan and Audrey have two children, Ethan and Dane Garard.
For 15 years, Jonathan supported Special Operations and conventional Army as a Civil Affairs Specialist in the United States Army. Jonathan has an extensive background in the development of regional and global infrastructure, large-scale strategic planning, instructor/course writing for the Primary and Advance Leadership Development course for the United States Army and High Threat Executive Protection Detail for the Department of State. A combat veteran and Bronze Star recipient, Jonathan concluded his military service in April of 2017.
---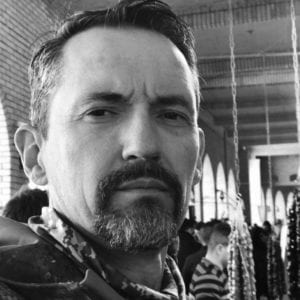 Tim Hayes
After 9/11, at 37 years old, with no prior military service, Tim Hayes received an age waiver for a direct commission to US Army Reserves JAG Corps in 2004.  He obtained the rank of Captain and volunteered for deployment to Iraq during the troop surge of 2007.  With 3rd Infantry Division, Hayes practiced operational law and detainee operations at Camp Bucca, Iraq, and Camp Arifjan, Kuwait, in 2008.  After returning from deployment, he served as 8th LSO JAG Team leader at Ft. Leonard Wood.  After ten years of service, he received an honorable discharge in 2014.
From 2015 to 2020, Hayes returned to Iraq ten times to assist the NGO, the Free Burma Rangers, fighting against ISIS.  The tasks accomplished on these trips have included providing combat lifesaver training, delivery of food and medicine to refugees, and escorting medical teams into the war zone to perform surgeries and eye exams.  On two of those trips, Hayes was accompanied by TWJ CEO Kevin Weaver and TWJ board member Ed Salau.
Hayes is an owner of the law firm, Bishop and Hayes, in Springfield, MO, where he practices auto accident law.  He holds a Bachelor's degree from Evangel University and a Juris Doctorate for the University of Missouri.  His military awards include the Meritorious Service Medal, Army Commendation Medal, Global War on Terrorism Service Medal, and German Armed Forces Proficiency Badge.  He is married to Janis Hayes and is the proud father of five children, Jess, Liz, Maddie, Gabby, and Jack.
Board of Advisors
---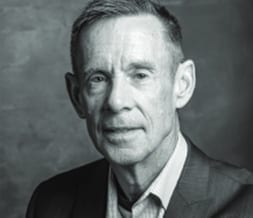 Scott McChrystal
Chaplain (COL), US Army (Ret.)
Scott McChrystal entered active duty in 1970 as a 2Lt in the infantry. He served 31 years on active duty, 10 as an infantry officer and the remainder as an Army chaplain. His line officer experience included a tour in Viet Nam as an Infantry Platoon Leader and 3 assignments with the 82nd Airborne Division at Fort Bragg, As an Army chaplain, he had multiple tours at home and abroad. His final assignment was serving as the Senior Chaplain at the United States Military Academy at West point, NY.  He retired from active duty in 2005.  Scott joined The Warrior's Journey staff full time in June of 2019.  He currently serves as The Warrior's Journey Military Liaison.
His decorations and awards include the Distinguished Service Award, the Bronze Star, the Combat Infantryman's Badge, the Master Parachutist Badge, and the Army Ranger Tab. In recent years, he has authored several Christian devotionals, co-authored a Christian action-novel, and served as the Managing Editor for the The Warrior's Bible, an application bible for the military community. Chaplain McChrystal and his wife, Judy, live in Springfield, Missouri, and have 4 children and 9 grandchildren.
---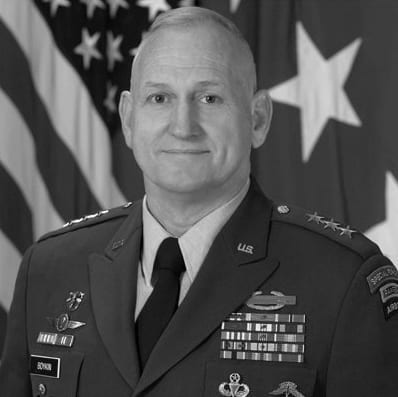 William G. "Jerry" Boykin
Lieutenant General, US Army (Ret.)
LTG (Ret.) William G. "Jerry" Boykin was one of the original members of the US Army's Delta Force. He was privileged to ultimately command these elite warriors in combat operations. Later, Jerry Boykin commanded all the Army's Green Berets as well as the Special Warfare Center and School.
In his thirty-six years in the army, LTG Boykin also served a tour with the CIA. He has participated in clandestine operations around the world and served his last four years in the Army as the Deputy Under Secretary of Defense for Intelligence. Today he is an ordained minister with a passion for spreading the Gospel of Jesus Christ and encouraging Christians to become Warriors in God's Kingdom.
Since June of 2012, Jerry has been serving as the Executive Vice President of the Washington DC based Family Research Council. He is also the occupies the Wheat Chair for Leadership Studies at Hampden Sydney College in Virginia.
Jerry & wife Ashley, enjoy spending time with their 5 children and growing number of Grandchildren.
---
Adam Rocke
Colonel, US Army (Ret.)
Adam Rocke is a retired Army Colonel and career Infantryman who was a Special Assistant to the Army Chief of Staff and the Director of the Soldier for Life Program. In this capacity, he led the U.S. Army's effort to create a network of enablers to connect Soldiers, Veterans, and families with employment, education, and the well-being required to successfully reintegrate into civilian society.
Throughout his distinguished military career, Adam served in various infantry and special operations units from Platoon to Brigade, including the Army Staff and Joint Staff, with numerous deployments overseas supporting the War on Terror. In his civilian career, Adam served as the Managing Director of NS2 Serves, a non-profit that provides high demand IT training for our Veterans and transitioning service members. Prior, he was the Vice President of Veterans Affairs at FASTPORT Inc, a digital technology company assisting Veterans and military spouses with a suite of services supporting meaningful employment opportunities.
Adam continues his mission to assist service members and their families as the Senior Director for Outreach and Development at the U.S. Chamber of Commerce Foundation, Hiring Our Heroes program where he previously served as one of their Personal Brand Ambassadors.
Adam is a staunch advocate for Veterans and their families and serves on the Board of Trustees at Home Builders Institute (HBI), as well as serving on the Association of the United States Army (AUSA) Retired Soldier and Veterans Affairs Committee and as an AUSA Senior Leadership Fellow, along with the American Legion Innovation Task Force on Veterans Employment and Training, the Easter Seals DMV Advocacy Committee, the George W. Bush Institute Task Force on Higher Education, and on the executive committee of the Feherty's Troops First Foundation – "Warrior Call" initiative. A Soldier for Life!
---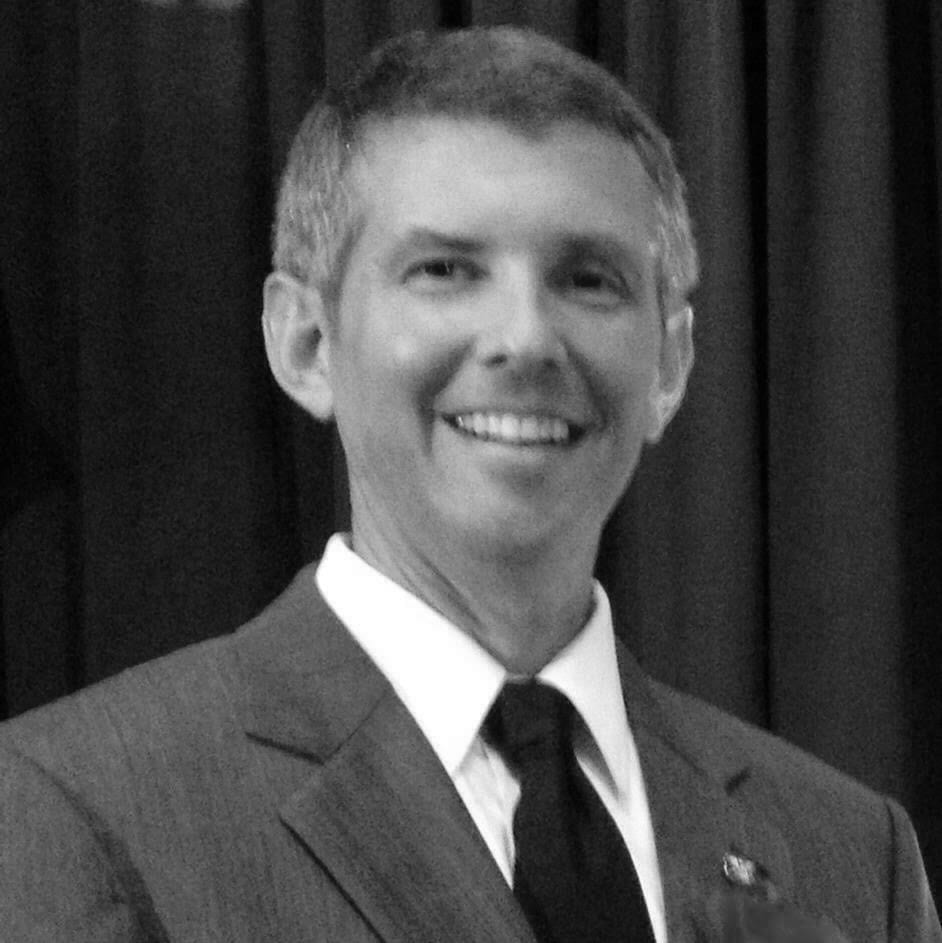 Edwin Salau
First Lieutenant, US Army (Ret.)
Ed Salau joined the Marine Corps in 1988 right out of high school. Salau served as a radio repairer in Okinawa, Korea, Philippines, and North Carolina. From 1993 to 1995, he recruited future Marines in Minnesota. Salau ultimately attained the rank of Staff Sergeant, and he was honorably discharged from the Marine Corps in 2000. Following his discharge, Salau enlisted in the North Carolina Army National Guard.
From 2000 to 2002, Salau served as an Infantry Team Leader. In 2002, he received a direct commission to Second Lieutenant, and he attended Infantry Officer Basic Course at Fort Benning, GA. Lt. Salau's unit was deployed in support of Operation Iraqi Freedom from February-November 2004. On November 15, 2004, his patrol was ambushed southeast of Tikrit with small arms and rocket propelled grenades. He was seriously wounded during that fight. In 2005, Lt. Salau was medically retired due to the injuries received in combat.
Since leaving the military, Lt. Salau has assisted combat-wounded service-members through their individual transitions from military to veteran lifestyles. He has worked in non-profit organizations and government positions placing him face-to-face with warfighters who are in
need of assistance. Lt. Salau currently works as a civilian employee of the Marine Corps, at Camp Lejeune, NC. He holds a Bachelor's degree from Southern Illinois University and a Master's in Business Administration from Boston University. His military awards include the Combat Infantryman Badge, Bronze Star Medal, Purple Heart Medal, and Meritorious Service Medal. He is married to Dawn Cash-Salau and is the proud father of two adult children, Kelli and Ethan.
---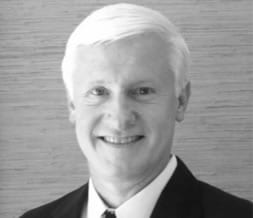 Norman Brozenick
Major General, US Air Force (Ret.)
Norm joins our Board of Advisors committed to thickening the ranks of Christ's followers. He is passionate about enhancing and extending The Warrior's Journey partnerships into a global network.
Norm is a 31-year veteran of the United States Air Force. Before retiring as the Vice Commander, Air Force Special Operations Command, he commanded a special operations squadron, group, and wing. Norm's joint duty includes serving on the Joint Staff; as Assistant Commanding General, Joint Special Operations Command; and Commander, Special Operations Command-Pacific.
Norm attended the U.S. Air Force Academy, graduating with a bachelor of science degree in International Affairs. He earned masters' degrees from Troy State University, the United States Naval War College, and Air University's School of Advanced Airpower Studies. Norm also completed the National Association of Corporate Directors' From Battlefield to Boardroom program.
Norm is the owner of Azimuth Strategies Team, LLC, a defense consulting service. He serves on the board of directors for Shield of Faith Missions, the Air Force Enlisted Village, and the Air Commando Association.
Norm and his wife Lisa reside in Pensacola, FL.
---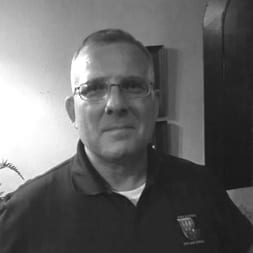 Dean Bonura
Chaplain (COL), US Army (Ret.)
Dean Bonura, Chaplain, (Colonel), U.S. Army, (Ret.) has dedicated most of his adult life to military ministry, having served 35 years in the U.S. Army with nearly 30 years as a chaplain on active duty.  He is married to Denise and they have five adult children, three of whom served in the military and one who serves as a Department of the Army Civilian.  He holds degrees from Corban University (Magna Cum Laude), Western Seminary, and Gordon-Conwell Theological Seminary, where he earned the Doctor of Ministry degree. Dean served in a variety of staff positions throughout his Army career from battalion to Installation in the United States, Europe, and the Middle East. He served in such distinctive military units as the 101st Airborne (Air Assault) Division, the 3d Infantry Division (Mechanized), the 2d Armored Cavalry Regiment, and the 1st Armored Division with whom he deployed to Iraq in 2003-2004.  He also served with the 1st Corps Support Command during Operations Desert Shield and Storm in 1990-1991 deploying to Saudi Arabia and Iraq.
Dean is the author of Beyond Trauma: Hope and Healing for Warriors, a Guide for Pastoral Caregivers on PTSD (2016), by WestBow Press, a division of Thomas Nelson and Zondervan. The book asserts every trauma has a spiritual dimension that warrants spiritual intervention, and that spiritual remedies based on biblical models, which employ principles of cognitive behavioral therapy (CBT) contribute to healing and even growth for those suffering with post-traumatic stress. He has also been published in other articles: Dean Bonura, "Spiritual Patriots," Be Strong and Courageous: An Anthology of Sermons to Warriors, ed. David Reese (Washington D.C.: Office of the Chief of Chaplains, 2012): 67-75; Dean Bonura, "Combat Trauma, Resiliency and Spirituality," The Army Chaplaincy, Summer-Fall 2009, (Fort Jackson, SC: Department of the Army): 74-81.
He is the recipient of numerous awards including the Legion of Merit, the Bronze Star Medal, the Defense Meritorious Service Medal, the Meritorious Service Medal with eight oak lead clusters, the Noble Patron of Armor award, and the Chapel of the Four Chaplains Legion of Honor award.  He is also a life member of the Veterans of Foreign Wars.
He is married to Denise and they have five adult children, three of whom served in the military and one who serves as a Department of the Army Civilian.
---

Daniel Bell
Daniel Bell served as an Army medic in Missouri National Guard, 2nd Infantry Division in South Korea, and at Keller Army Community Hospital at West Point, NY, before the Global War on Terror. After the 9/11 attacks, he assessed for the 160th Special Operations Aviation Regiment and completed the Special Operations Combat Medic Course. He deployed twice to Iraq and twice to Afghanistan with a Special Operations Task Force, and separated from the Army in 2006. Using combat and military life experience, he partners with The Warrior's Journey to reach veterans and service members.
Daniel and his wife Jamie have two children, Alec and Charlize. They live in San Antonio, TX, where his wife is currently serving in the Army, and he works as a realtor.