Partner
Armed Services Ministry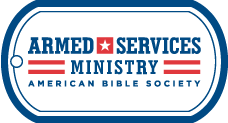 Learn More
Armed Services Ministry is a strong provider of resources for The Warrior's Journey.
As a part of the American Bible Association, Armed Services Ministry is the primary supplier for the Warriors Bible as well as many other military resources that we use to minister to Military members and their families worldwide.
Armed Services Ministry exists to help meet the critical spiritual needs of our nation's military by providing customized ministry programs and Scripture resources. These resources are freely available to all of our men and women serving our country, as well as Veterans and family members. From 1817 through the War on Terror, they have delivered nearly 60 million free Bible resources to America's armed forces. Today, they look forward to continuing our tradition of providing God's Word to the military.