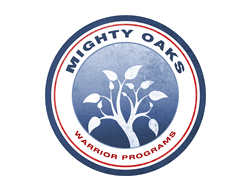 Learn More
We are proud to partner with Mighty Oaks in our outreach to struggling veterans.
Mighty Oaks and The Warrior's Journey work hand and hand to minister and speak healing into the lives of Soldiers who are struggling. The Warrior's Journey identifies the needs of the Soldiers and acts as referral provider for recommending individuals who would benefit from the Mighty Oaks retreat programs.
The Mighty Oaks Warrior journey begins with intensive peer-based programs that utilize instructional sessions, camaraderie, and team building activities that are designed to challenge our Warriors to overcome their past experiences and move forward into a life of purpose.  Our programs take place all across America on Military Bases, at our Outposts, and on rural ranch lodges. Each facility allows the Warriors to appreciate the peace of nature, and have an "un-plugged" experience while they focus on the challenges they face in completing the program.