Partner
The Stronger Alliance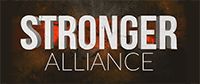 Learn More
The Stronger Alliance provides TWJ with media resources and study guides.
This small group material relates primarily to PTSD, allowing us to help men and women stuck in this situation to find victory and healing.
The Stronger Alliance exists to aid those seeking healing and restoration from trauma, abuse, and addiction. They provide resources, Prayer support, online communities, and serve as a connection hub for like-minded Christ-centered organizations all over the country. The Stronger Alliance also encompasses Reflective Media Productions, Reflective Life Ministries, Breaking Strongholds, Christian Film Alliance, We are Stronger, and Carla McDougal.