At first it sounded like a scene right out of the movie True Lies.
Maybe you don't remember that 1994 movie, starring Arnold Schwarzenegger, Jamie Lee Curtis, and Bill Paxton. Schwarzenegger and Paxton play completely contrasting roles. Arnold plays Harry Tasker, a high stakes spy for the US who poses as a boring run of the mill computer software salesman. Paxton plays Simon, a boring run of the mill used car salesman who poses as a high stakes spy for the US.
Both men try to hide their true identities. Harry Tasker does so to protect himself and his family. Simon does so to impress women. In the end, Simon's charade gets him in deep trouble when he runs into a team of real spies and is terribly humiliated.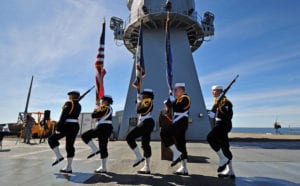 Well, life imitated art recently when a 54-year-old Pittsburgh man was arrested by the authorities for passing himself off as a Secret Service agent. When stopped for a traffic violation, he flashed his phony Secret Service ID to a police officer. The officer was not impressed. He ran a check on the ID and found it to be fake. He also found "Secret Service paraphernalia" (including an assault rifle) in the imposter's car.
As the police probed deeper into the man's background, the story "just kept getting better." Police discovered that the imposter's real job was—get this —scooping dog poop! The reason he purchased the phony ID, uniform, and equipment of a Secret Service agent was to impress women on an online dating service. He was a real-life "Simon." And the media went bonkers with his story.
Yet there was a side to the story that the media didn't report. In reality, the phony Secret Service agent had no reason to be ashamed of his life. It's true, his job did involve cleaning up after dogs—but it was part of a very successful pet service business that he owned and operated. His business also included preparing, selling, and delivering gourmet pet food. He also ran another business as a handgun dealer.
Truth be told, the pretender was an ambitious and successful businessman. He should have been proud of his achievements. Yet he felt so bad about himself that he sensed the need to pose as someone else. It got him in deep trouble with the law—a $500 fine and two years of probation. But the legal slap was nothing compared to the humiliation of having the media parade his folly before millions of Americans.
The poor pretender also overlooked one of the cardinal rules of successful relationships. They are built upon complete honesty and openness between partners. Lies are destructive to any relationship.
Let's all determine to be honest with ourselves and others. Maybe your life doesn't match the glamorous figures portrayed in the media, but neither do the lives of the rest of humanity. Besides, those heroes are all fictional. The real heroes in life are the ones who contribute to society, who roll out of bed every morning to face their responsibilities of making a living to support and care for a family. The real heroes are the ones who are faithful in their God-given tasks. In the end, the true mark of success will be hearing from our Lord, "Well done, good and faithful servant" (Matthew 25:21, 23).
PRAYER:
Dear Father in heaven, help me to get out of my dream world and get down to the serious business of living and fulfilling my God-given purpose: to serve You by serving and blessing others. Regardless if my task is great or small, help me to be faithful in all I do. Amen.
---
Information from: http://www.sltrib.com/home/5052886-155/poop-scooper-gets-probation-for-using