As a parent, nothing would give me greater joy than knowing my children were committed to serving the Lord
And God blessed Noah and his sons and said to them, "Be fruitful and multiply and fill the earth." (Genesis 9:1)
Then God said to Noah and to his sons with him, "Behold, I establish my covenant with you and your offspring after you." (Genesis 9:8)
These are the clans of the sons of Noah, according to their genealogies, in their nations, and from these the nations spread abroad on the earth after the flood. (Genesis 10:32)
My husband and I were invited to dinner at the home of a fellow military couple. They lived in historic military quarters—you know the kind where you wish the walls could talk? The walls did not need to talk to tell a fascinating story of family legacy. One of the first things my eyes fell upon when I entered the house was a horizontal collection of portraits of West Point cadets, which included our host. The photos displayed the family members who attended West Point for six consecutive generations dating back to 1823. The family represents one of the longest unbroken chains of West Point graduates. Obvious pride in the legacy of service has been passed down from one generation to the next.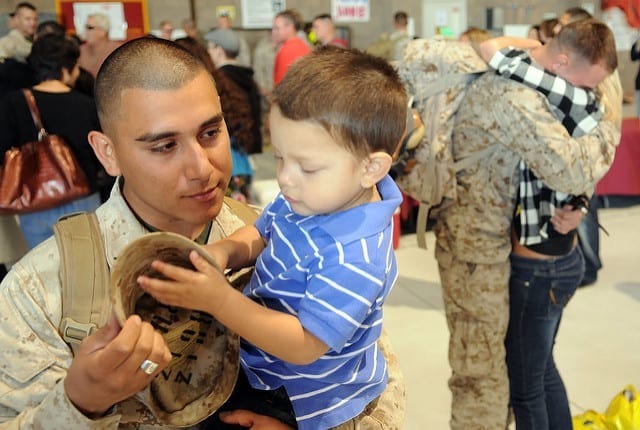 Military families tend to pass down a legacy of service to their children. Approximately 79 percent (eight-in-ten) veterans have an immediate family member who served in the military.1 The Military Child Education Coalition reports that children in military families are twice as likely as their civilian counterparts to join the military as adults.2
While military service is an honorable tradition to be associated with family heritage, nothing compares to the eternal legacy of passing on a steadfast faith in God. I am inspired and hopeful when I read God's promise in Genesis 9:8 that God made a covenant with Noah and his sons. As a parent, nothing would give me greater joy than knowing my children were committed to serving the Lord.
The ark was the means God used to save Noah and his family from the judgment of God. The ark is also a metaphor for all who are safe from God's eternal judgment through faith in the truth presented in God's Word. Whether you come from multi-generations of believers or you are the first believer in your family, you can look to the Lord to extend his mercy to your sons and daughters.
Along with the pride that accompanies an offspring filling a parent's military boots, we can also experience the peace that comes from knowing our children are in a right relationship with God. When we see our children serving the Lord, we know the meaning of the words of John, the disciple of Jesus, when he wrote, "I have no greater joy than to hear that my children are walking in the truth" (3 John 1:4).
Respond
What steps are you taking to pass a legacy of faith to your children? In what ways is military life strengthening your legacy of faith?
Prayer for the Journey
Lord, help me to leave a spiritual legacy to my children. May my life and words tell of your glorious deeds, your might, and the wonders you have done. Amen. (See Psalm 78:4)
---
1 Pew Research Center. "The Military-Civilian Gap: Fewer Family Connections," November 23, 2011, http://www.pewsocialtrends.org/2011/11/23/the-military-civilian-gap-fewer-family-connections/ (accessed June 3, 2015).
2 http://www.militarychild.org/student-identifier (accessed June 3, 2015).