Trust, of course, is a two-way street. I remind you: this passage may be written about a woman, but the wisdom taught is for all.
The heart of her husband trusts in her, and he will have no lack of gain. She does him good, and not harm, all the days of her life. (Proverbs 31:11–12)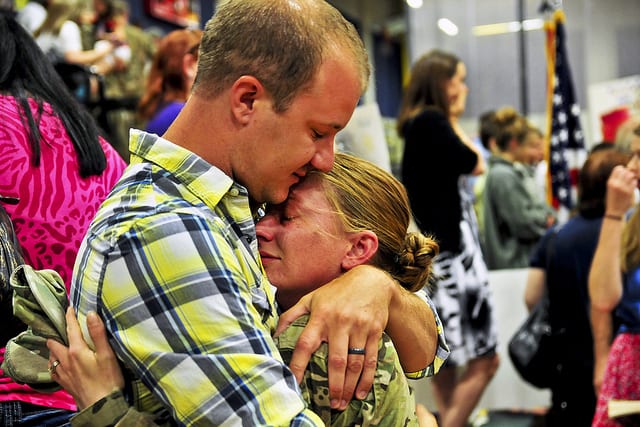 Michele is a young woman I met during a retreat for deployed spouses. I watched her throughout the week we were together. She was fully present for her two daughters even though frequent issues arose from her home-based business. She calmly dealt with the issues, working hard to tie up loose ends so she could take part in the retreat sessions and enjoy free time with her girls. I will be the first to shout from the rooftops that military wives are among the most resourceful women on the planet, and in Michele, I met the leader of the pack. I've continued to watch Michele via social media as she welcomed her husband home following deployment and continues to blossom in her career. Her industrious ways remind me of the woman in Proverbs 31:11–12.
Trusting Her
I dare say Michele's husband celebrates her value to him, not because of the money she makes from her successful business, but in the complete trust he has in her. Her husband is a warrior in the U.S. military, but Michele is a warrior of a different kind. The word used in this passage for "gain" is another military term. The literal meaning in Hebrew is spoils of war. The woman in Proverbs 31 is like a warrior who brings home loot from her victories.1 She makes sure her family has everything they need to survive.
This woman is not fighting a losing battle with a credit card balance or uncontrolled spending. No, she fights tenaciously and effectively to bring in resources. Her husband has confidence that her battles in this arena are for the good of their family.
Trust, of course, is a two-way street. I remind you: this passage may be written about a woman, but the wisdom taught is for all. Finances will be an issue in marriage if there is a low level of trust between both husband and wife.
Respond
What kind of battle are you and your husband fighting in the area of finances? Can you both say you trust each other where money is concerned?
Prayer for the Journey
Lord, sometimes I do not agree with how my husband spends money, and sometimes he does not agree with how I spend money. Help us to respect and trust each other. Guide us as we become better managers of the resources you have placed in our hands. Amen.
---
1. Christine R. Yoder, Abingdon Old Testament Commentaries: Proverbs (Nashville, TN: Abingdon Press, 2009), 293.

Photos: Welcome home by the U.S. Army. Licensed under CC BY 2.0.
---