A casual observer might conclude that prayer is a priority in the military. But you cannot deny that prayer was a priority for Daniel
When Daniel knew that the document had been signed, he went to his house where he had windows in his upper chamber open toward Jerusalem. He got down on his knees three times a day and prayed and gave thanks before his God, as he had done previously. (Daniel 6:10)
In the military context, what is the common component of the following: a basic training graduation, an ethnic celebration event, the opening of a new commissary, a change of command, and a retirement ceremony? If you said prayer, you are right. Isn't it noteworthy that at a time when prayer is prohibited in many public places, the military includes prayer in every special event you can imagine? A casual observer might conclude that prayer is a priority in the military. But you cannot deny that prayer was a priority for Daniel.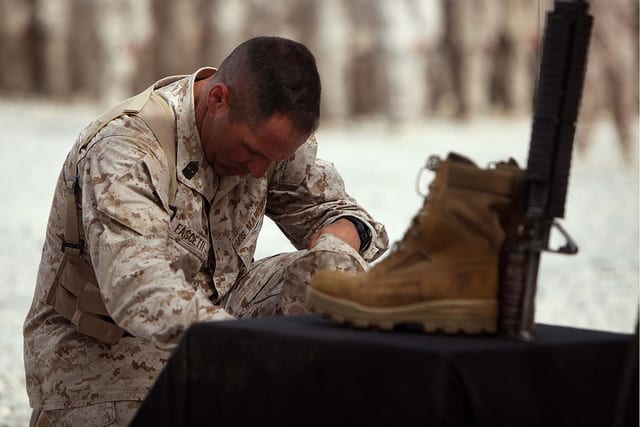 Most people have heard of Daniel in the lions' den. If you think Daniel prayed a powerful prayer for protection while staring into the snarling teeth of hungry lions, you might be right—but the Scriptures do not mention Daniel praying there. In fact, praying is what got him thrown into the den! Before you decide to avoid prayer as life-threatening, let's look at the story.
Everyone in the kingdom knew that Daniel had a practice of praying three times a day. The officials who were jealous of Daniel tricked the king into signing an irrevocable decree that for thirty days no one could make a petition to any god or man other than the king. Punishment for breaking the decree would mean keeping company with large felines.
Knowing the king had signed the devious decree did not stop Daniel from keeping his appointment with God. He went to his private upper room to pray as he always did. As with his choice of food, he was not making a defiant public spectacle—he was expressing his faith. The phrase, he got down on his knees, lets us know this was a private act, as standing was the common public position of prayer.1 Daniel's disobedience of the decree was not so much a demonstration of his personal rights as much as a daily practice of personal renewal in the presence of God.
Daniel's advice to us all would be to make prayer a priority. When you settle into a calm routine of life, prayer will refresh your spirit. When you move through the uncertainty of transition, prayer will rescue your soul.
The prophet Jeremiah wrote a letter to the exiles in captivity during the time Daniel lived. Daniel's commitment to prayer followed his admonition.2 We too can benefit from living by the words of Jeremiah: "For I know the plans I have for you, declares the LORD, plans for welfare and not for evil, to give you a future and a hope. Then you will call upon me and come and pray to me, and I will hear you. You will seek me and find me, when you seek me with all your heart, I will be found by you, declares the LORD …" (Jeremiah 29:11–14).
Respond
In what way does Daniel's response to the king's decree inspire you? How did prayer help Daniel through transition? How has personal prayer helped you through transition?
Prayer for the Journey
Lord, you are near to all who call on you, to all who call on you in truth. You fulfill the desire of those who fear you; you hear our cry and save us. Amen. (See Psalm 145:18–19.)
---
1 Paul M. Lederach, Believers Church Bible Commentary: Daniel (Scottdale, PA: Herald Press, 1994), 133.
2 Lederach, 132