There is no mention of words of faith being spoken, but there is an action of faith demonstrated by the friends
And when he returned to Capernaum after some days, it was reported that he was at home. And many were gathered together, so that there was no more room, not even at the door. And he was preaching the word to them. And they came, bringing to him a paralytic carried by four men. And when they could not get near him because of the crowd, they removed the roof above him, and when they had made an opening, they let down the bed on which the paralytic lay. And when Jesus saw their faith, he said to the paralytic, "Son, your sins are forgiven." (Mark 2:1–5)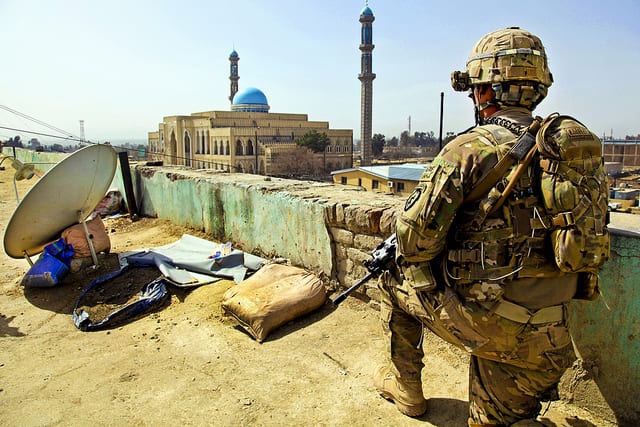 Military wives are the most resourceful and creative people you can find. As one put it, "We could give MacGyver a run for his money."1 Read Mark 2:1–5 and you could believe a Roman soldier's wife was outside the crowded house telling the paralytic man's friends how to get him to Jesus. Lowering him through the roof is the kind of creative solution a military wife would use.
As a military wife, I also identify with the friendship represented in this story. Military wives make the best friends. The paralytic man's friends were willing to go to extreme measures to get their friend to Jesus. They did not let the barrier of the crowd intimidate them. They did not let the barrier of the roof intimidate them. They dug out the mud roof, removed the wood crossbeams, and lowered their disabled friend into the presence of Jesus. What an entrance!
I cannot help but be inspired by this man's creative friends. In Mark 2:5, notice that Jesus saw their faith. There is no mention of words of faith being spoken, but there is an action of faith demonstrated by the friends. Their action said they believed in the healing power of Jesus and they got creative in finding a way for their friend to encounter that power.2 The paralytic was made whole that day. Jesus healed his body, but he also forgave his sins.
Sisters, we are on a mission to point people to Christ so they can be made whole. God can use our faith to make a difference in the lives of others.
Respond
What model do the friends of the paralytic man provide? Do you have friends like that in your life? How are you a friend like that to others?
Prayer for the Journey
Lord, thank you for the gift of friendship. Help me to be willing to break through barriers to share you with my friends. Amen.
---
1 Marie Hobson, "Military Wives Are Anything But Dependent," The Moderate Voice, accessed July 30, 2014. http://themoderatevoice.com/110408/military-spouses-are-anything-but-dependent.
2 R. T. France, The New International Greek Testament Commentary: The Gospel of Mark (Grand Rapids: Wm. B. Eerdmans Publishing Co. 2002), 124.