Author and Jesuit priest, Mark Link, tells the story of an infantryman in World War II from West Virginia.  He had joined the Army after slaving for years in the coal mines and had, in fact, come from a coal mining family.
Courageous Coal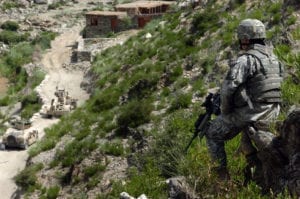 Throughout the war, the infantry soldier kept a chunk of coal in his pocket.  Whenever things got tough, whenever he reached the end of his rope and felt he just couldn't go on, he'd reach into his pocket, squeeze the coal, and repeat to himself, "If I could take the mines, I can also take this.  God got me through the coal mines of West Virginia and he can get me though the battlefields of Europe."  That little ritual always gave him the needed courage to go on.
Thanksgiving Yields Perseverance
In a way, that is a function of thanksgiving and reflection. When we give God thanks, we remember his acts of faithfulness in the past and find inspiration to trust him for the present crisis. We say in our hearts, "God, if you brought me through all those trials, you'll bring me through this one as well."  Consider how David the shepherd boy, when faced with Goliath, explained: "The Lord who delivered me from the paw of the bear and from the paw of the lion will also deliver me from the hand of this Philistine." (1 Samuel 17:37)
David reckoned that God's flawless record of faithfulness was proof that he would remain faithful.  Take time to remember the challenges and insurmountable problems that you've already successfully overcome.  Reach down in your pocket of memories and remember all those times God has helped you and delivered you.  If you got through those challenges, you'll get through this one as well.
Prayer
Dear Father in heaven, grant that I may not forget Your past record of faithfulness in my life.  Help me to remember and reflect that, if You got me through those trials of my past, You will get through my present ones as well.  Amen.
---