Friend, keep worship a priority throughout the deployment and redeployment process
When the seventh month came, and the children of Israel were in the towns, the people gathered as one man to Jerusalem. Then arose Jeshua the son of Jozadak, with his fellow priests, and Zerubbabel the son of Shealtiel with his kinsmen, and they built the altar of the God of Israel, to offer burnt offerings on it, as it is written in the Law of Moses the man of God. They set the altar in its place, for fear was on them because of the peoples of the lands, and they offered burnt offerings on it to the LORD, burnt offerings morning and evening.
(Ezra 3:1–3)
My vision blurred as I drove home from chapel on Sunday mornings during my husband's first deployment. The idea of eating lunch alone afterwards brought a flow of tears. Any other day of the week I was fine, but not on Sundays. I started to find excuses not to go to church in order to avoid the sad ride home following the benediction. Over time, I reached out to friends, and they reached out to me. Church no longer represented the loneliest day of the week, but instead became a place I corporately celebrated God's faithfulness.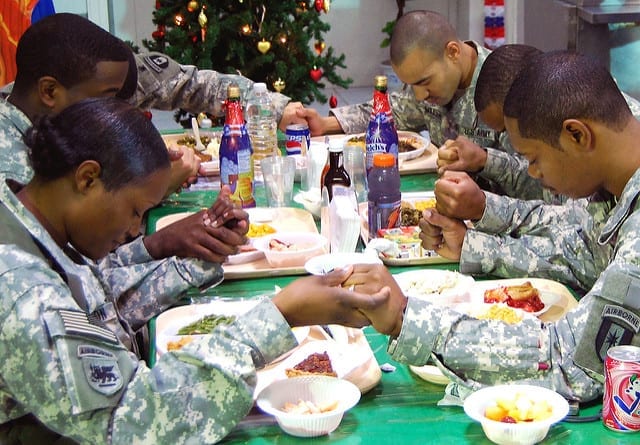 Interesting enough, when my husband redeployed, church was one of the first places I wanted to go. I had sat through enough reintegration briefings to know we needed all the help we could get in order to reestablish our relationship.
I reminisced about that deployment as I read Ezra 3. Did you notice the first thing the Israelites did when they returned to Jerusalem was to build an altar to worship God? Such action speaks volumes about the foundation of their faith and their desire to reestablish worship as a priority for their nation.
The priests reconstructed the altar on the same foundation as the altar of Solomon's temple.1 Do not miss the significance of this act. The rebuilding of the altar was the first step in setting apart the Jewish people as a nation once again.2
Scripture indicates that the people were fearful of the reconstruction because of opposition from the inhabitants of the land. But the altar represented God's protection and presence, which gave them more reason to be resilient in their effort to reconstruct.3
A 2011 study focused on challenges for military families during reintegration. Of crucial importance was a guiding belief system enabling a family to make sense of and find meaning in a difficult situation.4
Friend, keep worship a priority throughout the deployment and redeployment process. Consider church or military chapel to be one of the first places you go as a family. You might notify your pastor or chaplain about your husband's return and request recognition of the homecoming. What better way to mark a reunion than through worship in God's house?
Respond
Why might it be meaningful or significant for your church or chapel to recognize your reunion? Why do you think a "guiding belief system" is important to military families?
Prayer for the Journey
Father, help me make worship of you a priority today and every day. May I continually offer up a sacrifice of praise to you, the fruit of my lips that acknowledge your name. Amen. (See Hebrews 13:5)
---
1 King Solomon built the first temple, which became the preeminent symbol of national and religious unity for the nation of Israel. The Babylonians destroyed this temple in 587 B.C.
2 John F. Walvoord and Roy B. Zuck, The Bible Knowledge Commentary: Old Testament (Colorado Springs: David C. Cook, 1983), 658.
3 Keith N. Schoville, The College Press NIV Commentary: Ezra-Nehemiah (Joplin, MO: College Press Publishing, 2001), 66.
4 Lydia I. Marek, "Returning home: What we know about the reintegration of deployed service members into their families and communities," https://www.ncfr.org/ncfr-report/focus/military-families/returning-home.