He wanted to make this journey with God's blessing
I gathered them to the river that runs to Ahava, and there we camped three days. (Ezra 8:15a)
Then I proclaimed a fast there, at the river Ahava, that we might humble ourselves before our God, to seek from him a safe journey for ourselves, our children, and all our goods. (Ezra 8:21)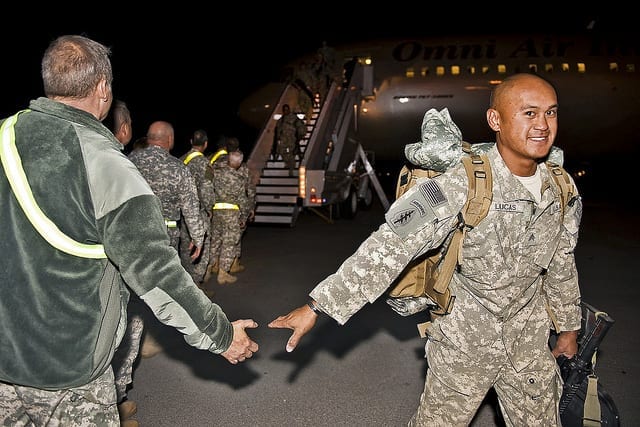 After my husband returned home from one deployment, I spent days wanting to wear a sign around my neck: FRAGILE—Handle with Care! The feeling of fragility was real and brought along its friend, fear. I wondered if we would reach the destination—integration as a family unit. I wondered if I had what it took.
During my husband's absence, I attended to the needs of other deployed spouses. My kids were in a new season that required less physical, but more emotional, energy. My position as a leader for a military ministry involved an intense travel schedule. I was tired—no, I was beyond tired; I was weary. A good friend and fellow military wife suggested that many spouses experience a form of "compassion fatigue" following repeated deployments. Between taking care of other military families and trying to take care of your own family, the impact can be debilitating. Compassion fatigue is cumulative and residual. After caring for others during trauma, we can experience fragility.
After caring for others during trauma, we can experience fragility
Ezra demonstrated principles applicable to a weary military spouse who feels she does not have what she needs for a successful reintegration journey. It is clear in Ezra 8 that Ezra felt fragile. He faced a 900-mile journey on a camel and did not have the people to guard the vast treasure he had to transport. He planned to move articles from the temple, and the Jewish law put Levites in charge of such articles. Ezra searched the camp and found no Levites. He felt responsible for both people and goods. He wanted to make this journey with God's blessing.
What did he do when he was not sure how to move forward? He stopped and prayed. I am not offering a flippant "Just pray about it." What we see in Ezra is a model of what to do when faced with a faith-testing circumstance. When he felt weak in his situation, he leaned even more into God's provision. Praying and fasting was not only a way to ask for God's help, it was also an acknowledgement of his inability to go in his own strength. If attacked by robbers along the journey, he knew he had no armed guards to protect his traveling band. He humbled himself before God, and the Lord answered his prayer by providing safe passage to Ezra and the other defenseless travelers (Ezra 8:31–32).
The apostle Peter endorsed this example centuries later when he wrote, "Humble yourselves, therefore, under the mighty hand of God so that at the proper time he may exalt you, casting all your anxieties on him, because he cares for you" (1 Peter 5:6–7). Our good and faithful God will help you in times of weariness and fragility. He never tires or becomes weary in his compassion for you. He can help you arrive at your destination refreshed, renewed, and reintegrated.
Respond
What do you learn about God from Lamentations 3:22–24 and Isaiah 40:28? When you are tired and weary, how does it help to know God does not grow tired or weary?
Prayer for the Journey
Lord, thank you for your steadfast love. May your love embrace me, your mercy protect me, and your faithfulness sustain me. Amen.
---