You cannot know all the details of what to expect when you PCS.
Therefore Saul sent messengers to Jesse and said, "Send me David your son, who is with the sheep." And Jesse took a donkey laden with bread and a skin of wine and a young goat and sent them by David his son to Saul. And David came to Saul and entered his service. And Saul loved him greatly, and he became his armor-bearer. (1 Samuel 16:19–21)
David's first PCS was from the pasture to the palace. If David had been married at the time Samuel recruited him to be king, his wife might have pictured in her mind how the furniture would look in a king's palace. However, David's first move in service to his nation was not directly to the office of the Commander-in-Chief. Sometimes the picture in our mind of what a duty station will be like may prove different when the moving truck rolls through the gate. Though David would one day be king, his first headgear was not a crown but that of a servant. He would make several moves before his own family set up house in a palace.
New challenges give us an opportunity to learn new things
The historic quarters assigned to my family at our first duty station were charming. The charm faded when I met the nocturnal two-inch creatures who thought they were permanent residents. New challenges give us an opportunity to learn new things. My husband found a way to avoid sharing our home with these unwanted occupants—Roach Prufe®!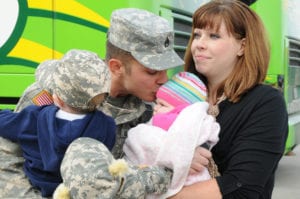 You cannot know all the details of what to expect when you PCS. The recruiter or military sponsor may have painted a rosy picture of the installation or overestimated how much free time your husband or wife would have to spend with you. Nevertheless, focus on the big picture of God's plan. David's path to the position for which Samuel recruited him had some unexpected turns and detours. Yet, God was mapping out the course for David to follow. One of the keys to David's success was his recognition and reliance on God's plan for his life. He later wrote, "The steps of a man are established by the LORD, when he delights in his way" (Psalm 37:23). Trust him to establish your way as well.
Many years later, I still have fond memories of living in that first set of quarters. The other residents (the two-legged kind) were great neighbors, and the community was a perfect place for my two boys to safely play and make friends. God was indeed ordering my family's steps and the place where we laid our heads. As an added bonus, we learned the first thing to do when we signed for quarters—buy some Roach Prufe.
This article is part of a series on strengthening military marriages.
Respond
Read and meditate on Psalm 37:23. In what ways have you seen the Lord establish your way? How are you delighting in the Lord wherever you are in the relocation process?
Prayer for the journey
Lord, thank you for the promise that you will establish the direction of my life. Help me to delight in you today and trust you for my future. Amen.
---