The military provided our passports and I assumed they were correct. Silly, silly me!
About midnight Paul and Silas were praying and singing hymns to God, and the prisoners were listening to them, and suddenly there was a great earthquake, so that the foundations of the prison were shaken. And immediately all the doors were opened, and everyone's bonds were unfastened. When the jailer woke and saw that the prison doors were open, he drew his sword and was about to kill himself, supposing that the prisoners had escaped. But Paul cried with a loud voice, "Do not harm yourself, for we are all here." And the jailer called for lights and rushed in, and trembling with fear he fell down before Paul and Silas. Then he brought them out and said, "Sirs, what must I do to be saved?" And they said, "Believe in the Lord Jesus, and you will be saved, you and your household." (Acts 16:25–31).
Our passports arrived. We were ready to join my husband in Korea. We knew this move would offer our family a unique view of Asian culture. Germany had felt far away from home, but now the move to Korea seemed like going to another planet. The long flight did nothing to dispel that opinion!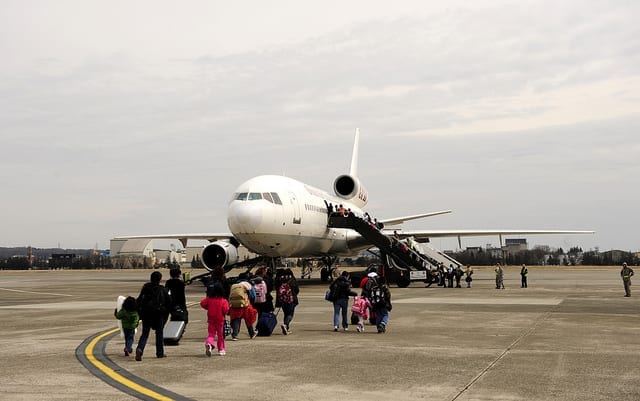 We landed and joined the line for Immigration Control. I handed over our passports. Two were stamped and then, while examining the third, the agent looked at me strangely—the kind of look you do not want to come your way in such a place. He said, "Step this way, ma'am." My boys and I were ushered into a small room. I had no idea what was happening. It felt like a bad spy movie. My imagination went wild as I sat and waited for the interrogation to begin. Korean officers entered the room with our passports in hand.
"Why are you in Korea?" "How long will you stay?" The questions went on. Eventually I learned that the passport for my youngest son lacked a status of forces agreement (SOFA) stamp. I had noticed the discrepancy when our passports arrived, but I concluded he was too young to need it. The military provided our passports and I assumed they were correct. Silly, silly me!
When Paul traveled he had certain rights as a Roman citizen, but the local authorities did not initially respect his rights. He was unlawfully beaten and thrown into jail. We were treated with respect and kindness in Korea, but we were still emotionally rattled. The authorities gave us a temporary entry stamp and assured us we could procure a permanent SOFA stamp from the embassy. The Lord knows how to help us even when red tape entangles our lives.
God worked things out for Paul and Silas as well. When the city officials learned that Paul was a Roman citizen, they came to his cell and personally apologized. Of greater importance was the conversion of the jailor and his family, which may not have happened if Paul had not been thrown in jail in the first place. Military dependents live under the laws of the homeland, and when assigned overseas, under the laws of a foreign land. More importantly, we live under the laws of the Lord. Sister, be encouraged, because God tends to rule in our favor.
Respond
Has red tape been an obstacle in any of your PCS moves? What keeps you from viewing such obstacles as opportunities?
Prayer for the Journey
Lord, help me see myself as your representative wherever you lead me. Use me to share your love with others today. Amen.
---