…whether the state was North Carolina (twice), Georgia (twice), Virginia (twice), Pennsylvania, New Jersey, Kansas, or even beyond our U.S. states to Germany and Korea, I learned to be content
Not that I am speaking of being in need, for I have learned in whatever situation I am to be content. (Philippians 4:11)
In how many cities have you lived? Into how many homes have you moved? How many times have you received PCS orders?
Numbers do not stay in my head, so when I'm asked the questions above I usually respond with, "A lot!" I connect the years we lived in a place not by dates, but by the age of my children at the time. My ineptness with numbers is embarrassing and is one of the reasons I trained to be a kindergarten teacher. The point is, as a military wife, I moved a lot, and I have lived in a lot of different houses.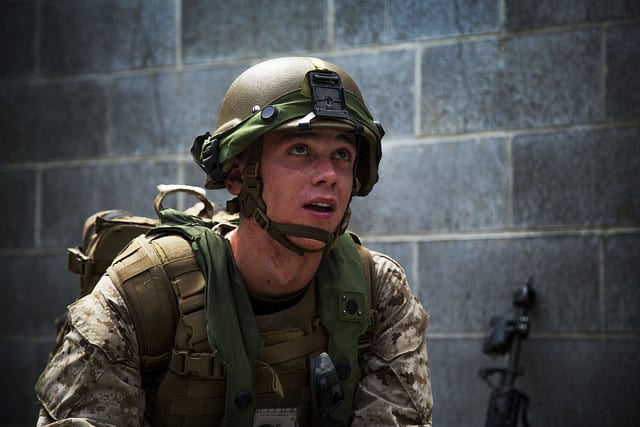 The life Scripture of a military wife could easily be the American Standard Version of Philippians 4:11: "Not that I speak in respect of want: for I have learned, in whatsoever state I am, therein to be content." Yes, whether the state was North Carolina (twice), Georgia (twice), Virginia (twice), Pennsylvania, New Jersey, Kansas, or even beyond our U.S. states to Germany and Korea, I learned to be content. PCS moves can only be successful if you learn to find satisfaction "in whatsoever state" you find yourself.
The apostle Paul did his share of moving from place to place as well. In how many cities did God assign him to work? A lot. He was the one who wrote Philippians 4:11 on the topic of contentment—from prison—while awaiting a possible death sentence!
Paul continues in Philippians 4:12–13, "I know how to be brought low, and I know how to abound. In any and every circumstance, I have learned the secret of facing plenty and hunger, abundance and need. I can do all things through him who strengthens me."
People are prone to misuse Paul's words as a biblical magic lamp to rub and have "all things" made better. That would make God a magic genie who instantly wipes out difficulties. In The Most Misused Verses in the Bible, Eric Bargerhuff writes that Philippians 4:13 "is about having strength to be content when we are facing those moments in life when physical resources are minimal."1 PCS season brings with it a lot of stress, a lot of confusion, a lot of frustration, and a lot of weariness. Paul's message in Philippians 4:11–13 is that God is a sustainer when life brings us a lot of challenges.
Over the next few days, we will trace some of Paul's journeys and the challenges he faced. One thing I can guarantee we will discover is that wherever Paul went God had something special in store for him. Sister, wherever you go the Lord has something special in store for you. He wants to use you—a lot—even through the challenges of a PCS.
Respond
Notice the key word learned in Philippians 4:11. What has military relocation taught you about contentment? In what ways do you struggle to find contentment in relation to military PCS?
Prayer for the Journey
Lord, forgive me when desires overwhelm my heart. Give me a teachable spirit that I may apply your Word and be content in every situation. Fill my heart with your peace when I become anxious. Amen.
---
1 Eric J. Bargerhuff, The Most Misused Verses in the Bible (Bloomington, MN: Bethany House Publishers, 2012), 102.