Life had been very cruel to Sindhutai Sapkal.
Her parents married her off to a 20-year-old man when she was only 10. Ten years later, she had three young children and was nine months pregnant with her fourth child. That's when her husband cast her out of the house. Such treatment is not uncommon in India.
Abandoned by both her husband and her biological family, Sindhutai found shelter in a cowshed, and there she gave birth to her daughter. She had to cut her newborn baby's umbilical cord using the sharp edge of a nearby rock. She and her baby survived by living in a railway station, begging, and singing for alms.
A New Family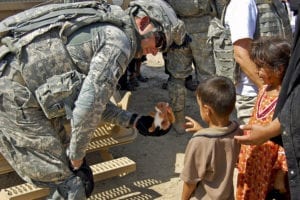 There in the railway station at Prune, in India's Maharashtra state, Sindhutai began to find other abandoned people—almost all of them: children and infants. She found small toddlers abandoned on the rail platform, babies in dustbins, and babies being dragged away by dogs in the street. She took them all under her wings and begged for extra food to feed them. As she and her daughter's adoptive family grew, Sindhutai finally obtained enough funds to purchase a building to live in. From there she would walk to nearby villages and plead for funds and food to help her growing family. Usually, on these fund-raising missions, she not only came home with more goods but also more abandoned children. She turned no one away. She felt the pain of abandonment herself, therefore she determined never to inflict such suffering on others.
Today 68-year-old Sindhutai has a family of over 1,400 children, 207 sons-in-law, 36 daughters-in-law, and over 1,000 grandchildren. The children she has raised with tenderness and love have been married to respectable families, have become doctors, lawyers, professors, and social workers, and many have remained on with their family to assist Sindhutai in raising her vast family and running her four orphanages.
Reactions
And she has done all of this without any government donations. In fact, the only things she has received from the government are bureaucratic hassles. Her orphanages do not put all the children up for adoption or even force her children out at the age of 18—as government-run orphanages are required to do. Sindhutai cannot bear the thought of turning anyone out.
For all her heroic efforts, Sindhutai has received over 750 local, national, and international awards. Several universities have conferred honorary degrees to her. Although appreciative of this recognition, Sindhutai knows it will never put food on the table or pay the bills. She still has to work tirelessly to solicit donations from individuals and corporations.
Lessons for Us
Sindhutai's incredible labor of love evokes many thoughts and teaches many lessons. There is the lesson of the potential for goodness and greatness in the life of one child that society has deemed as "unwanted." Many of the "throw-away babies" Sindhutai had redeemed with love have gone on to accomplish great things for humanity. Where would they be if she had turned them away in her own pursuit to merely survive?
There is also the lesson of a person who turned their own pain into other's gain. Sindhutai turned the heartbreak of her own abandonment into the resolve to never turn anyone away. Her mission statement is simple: "I am there for those who have no one."
There are three additional lessons:
the power of love displayed to the unloved.

the good that can be achieved through determination.

obstacles that can be overcome by people who care too much to fail.
Sinhutai and Jesus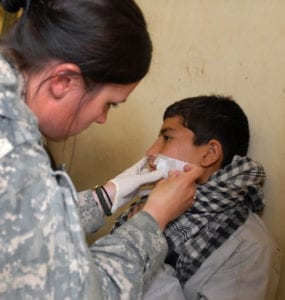 Perhaps the lesson which means the most to me is that Sinhutai's life parallels that of Jesus Christ. Jesus Himself was born in a cowshed (Luke 2:7), and he endured homelessness and rejection. The Scripture says of Him, "He came unto His own, and His own (kindred and people) did not receive Him" (John 1:11). While He walked the earth, He confessed, "Foxes have holes and birds of the air have nests, but the Son of Man has nowhere to lay his head" (Matt. 8:20). Even the prophet Isaiah foretold that Christ would be despised and rejected by men (Isa. 53:3). And as He hung upon the cross, He also suffered the rejection of His Father, crying, "My God, My God, why have You forsaken Me" (Matt. 27:46).
And because Jesus knows the agony of abandonment by personal experience, we are assured of two things. First, He sympathizes with the pain we suffer (Heb. 4:15). And second, He will never, ever turn us away or forsake us. "Whoever comes to Me I will never turn away" (John 6:37) and "Lo, I am with you always, even to the end of the age" (Matt. 28:21).
You Are Loved
If you are feeling the pain of rejection, please understand that there is Someone in heaven who knows precisely how you feel, and He will never reject you. In fact, He will welcome you in His loving arms. If you have known the agony of abandonment, please consider that God wants you to turn your own pain into other's gain—by resolving to bear the burdens of others and never turn anyone away. If you feel worthless and unwanted, remember that God loves you and has instilled in you unfathomable potential for goodness and greatness. Come to Him and allow Him to unfold His plan before you in service to others and to His eternal Kingdom.
PRAYER:
Dear Father in heaven, I commit my life and future into Your loving and capable hands. Please receive me into Your loving embrace, heal my broken heart with Your love, and make me an instrument of Your peace and healing in the lives of others. Amen.
---
Information from: http://www.odditycentral.com/news/indias-mother-of-orphans-has-raised-over-1400-abandoned-children.html
In article photos in order of appearance: Humanitarian aid drop by the U.S. Army licensed under CC BY 2.0
Medical Aid by the U.S. Army licensed under CC BY 2.0