What are some songs that would be on your PCS playlist?
The LORD will keep your going out and your coming in from this time forth and forevermore. (Psalm 121:8)
What is on your road trip playlist? Do you like to put the pedal to the metal with rock anthems? Maybe you choose to let the motor hum with classic country. Or, perhaps you prefer to navigate your way with a little road-trip worship. If you choose the latter, you are in good and ancient company. Jewish tradition holds that Psalms 120–134 were the "road-trip playlist" for those traveling to worship in Jerusalem. These songs, known as the Psalms of Ascent, prepared their hearts for worship at the temple as they made their way up to Mt. Zion.1
If I created a playlist for my next PCS, it would be filled with songs that speak of God's faithfulness. The songs would point my thoughts to the promise held in one of the songs sung by ancient travelers in Psalm 121:3, "He will not let your foot be moved; he who keeps you will not slumber."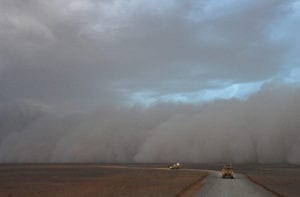 I remember our PCS from Kansas to North Carolina. My husband was in a car with one son, and I was in a second car with another son. Of course, we were loaded down like the Beverly Hillbillies and my husband was guiding our two-vehicle caravan. Suddenly, the sprinkles of rain that were falling became a torrential downpour. I could not see anything in front of me. I did not have a cell phone to let my husband know I had stopped. The fear of sliding off the road or of missing a turn he might make was tangible.
At that moment, I did what any mom would do—I pulled off the road, grabbed my son's hand, and desperately prayed for God's help. After a while, the storm finally passed. I caught up with my husband who had been waiting for us a few miles down the road, and we were on our way again.
You know, I faced some other storms during that PCS—storms that did not bring rain—but tears. However, my experiences taught me that regardless of the nature of the storm, the nature of God is to keep me safe. He is a faithful traveling companion.
Respond
What are some songs that would be on your PCS playlist? How has God been a faithful traveling companion during your PCS seasons?
Prayer for the Journey
Lord, my help comes from you. Remind me that you will keep me in my going out and coming in. Make my trust in you strong and confident. Amen.
---
1 John H. Walton, Victor H. Matthews, Mark W. Chavalas, The IVP Bible Background Commentary: Old Testament (Downers Grove, IL: InterVarsity Press, 2000), 518.