When the battle becomes overwhelming and the enemy is poised to seize friendly territory, it is time to call in the reinforcements.
Sound the Trumpet!
Extra manpower and materials are critical to reengaging the enemy and regaining lost ground.  You may be facing a time right now where you are losing ground.  You may feel neglected and abandoned but God is ready, willing, and able to supply what you need.
First
Remember that God guarantees we will have what we need (Philippians 4:19). Good commanders ensure their units have the manpower, equipment, and training they need to accomplish the mission.  God, as The Commander in Chief, has supplied us with all three.
He has given us fellowship with other believers, so we would not be hardened by our sin (Hebrews 3:13).  He has freely given us all things (equipment), including His Son to accomplish His work (Romans 8:32).  And He has given us grace and salvation to train or instruct us "to deny ungodliness and worldly desires and to live sensibly, righteously and godly in the present age" (Titus 2:11:12).
Second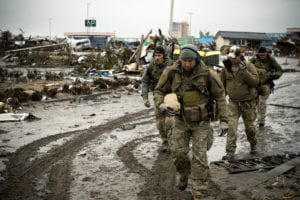 We must fight the tendency to immediately call in reinforcements when things turn ugly.  Commanders expect subordinate leaders to take charge and accomplish the mission with what they have been given.  But fear and disastrous past experiences can leave us feeling vulnerable, so we call on God to take control.  We want victory more than the battle that leads to victory.
There is a current Christian song that offers an appropriate prayer to help us with this tendency.  It says "help me want the Healer more than the healing" and "help me want the Savior more than the saving" (Natalie Grant, More Than Anything).  Ask yourself what is it that you really want from God?
Third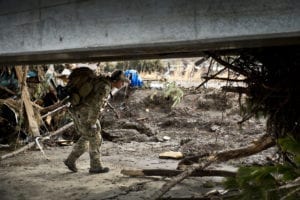 There are times when it feels like God is letting us be overrun.  We struggle to make sense of why good Christians die of cancer, a hurricane decimates a town, or when addiction or anger breaks apart families.  Jesus felt this same way.
In His final days on earth, He was with His disciples in the Garden when His enemies showed up in full force.  Peter naturally drew a sword to begin the battle, but Jesus stopped it from becoming a war.  Jesus reminded His disciples that He could "appeal" to His Father to send 12 legions of angels as reinforcements, but He refused to do so because there was something bigger that needed to take place.  This lost battle would allow Him to win the ultimate war over sin (Matthew 26:47-54).
Reflection
There was a time in my life when I was overwhelmed and out of my league with a very serious situation.  I called on God to provide reinforcements, but He didn't budge.  I later realized He held back because I was trying to work around His Word and His plan.
Know that reinforcements will not come when we are disobedient to His Word, but repentance opens the door to re-aligning ourselves to doing it God's way and receiving the right kind of help we desperately need.
Are you ready to receive God's help, His way?
---