Following God with full sails is the key to success in times of transition
Then Joshua blessed him, and he gave Hebron to Caleb the son of Jephunneh for an inheritance. Therefore Hebron became the inheritance of Caleb the son of Jephunneh the Kenizzite to this day, because he wholly followed the LORD, the God of Israel. (Joshua 14:13–14)
But my servant Caleb, because he has a different spirit and has followed me fully, I will bring into the land into which he went, and his descendants shall possess it. (Numbers 14:24)
Caleb had a stellar reputation with God—and God's people. God took special notice of Caleb early on when he pronounced his judgment on the Israelites who chose not to move immediately from Egypt to Canaan because they feared the inhabitants. God declared that none of the men who came out of Egypt would set foot in the Promised Land, with the exception of Caleb and Joshua. Singling out Caleb, God said, "He has a different spirit and has followed me fully." Forty-five years later, God attributed Caleb's success in the transition to his inheritance in Hebron directly to Caleb's choice to wholly follow the Lord.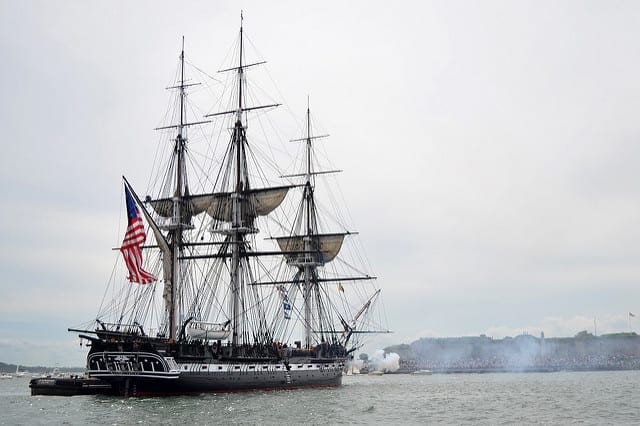 Scripture uses an interesting Hebrew word to describe how Caleb followed the Lord. Both of today's Scripture selections use the same root word. In Joshua 14:14 it is translated as wholly and in Numbers 14:24 it is translated as fully. The word describes something that has reached full capacity. In his commentary on Joshua, Kenneth Gangel explains that the word is a nautical term to describe a ship with all its sails full of wind pushing straight toward a location, no matter what.1
When my husband and I first moved into military quarters, we were setting out in uncharted waters. We believed that this major life transition was God's will for us. I did my best to fully embrace the role of military wife. After nearly thirty years, traversing the globe as a military family had become the comfortable norm. Charting a new course out of the military and into retirement seems like sailing into unfamiliar waters once again. However, I am determined to fully embrace this new phase of God's plan. Following God with full sails is the key to success in times of transition.
God said that Caleb had a spirit different from his peers. Having a passion to fully follow the Lord was the exception in Caleb's day, and possibly in our day. Jesus said the greatest commandment is to "Love the Lord your God with all your heart and with all your soul and with all your mind" (Matthew 22:37). Living out our love for God by following where he leads can help us approach a major transition with a fully committed attitude. Who knows? We may even get a reputation like Caleb's.
Respond
What does wholly following the Lord look like to you? How does Caleb's example challenge you as you look toward retirement?
Prayer for the Journey
Lord, as the psalmist declares: "Give me understanding, that I may keep your law and observe it with my whole heart" (Psalm 119:34). Amen.
---
Kenneth O. Gangel, Holman Old Testament Commentary: Joshua (Nashville, TN: B&H Publishing Group, 2002), 213.