"Father, we come to you this awesome day that You have made, and from the start honor You, the One who makes all things possible…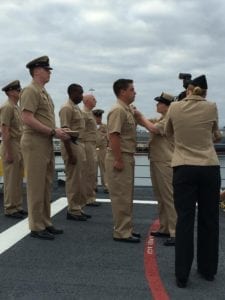 We commit to you our Chiefs Select, and their families, who today join the rich and storied ranks of becoming United States Navy Chiefs.
As each one enters the Mess, may former capabilities be fused with supernaturally deepened reservoirs for advocacy, discipline and leadership now required of these men and women—backbone and linchpin to our Navy's Success.
We rejoice at this accomplishment and milestone in their Naval Career. They stand today before the One, who is close as the mention of His name. Pour out new strength and keep them.
As they don the cover, and wear the Anchors, give them deep down knowledge of the One who can moor their soul and preserve their convictions in heaviest fire.  They have been prepared, tested and selected—So may they persevere as they assume this mantle of guardianship to protect and guide Sailors.
Bless their incredible families, whose love and Sacrifice have helped make this day possible! And may You go before them in the new roles they will take: Platoon Chiefs, Departmental Chiefs, Team Chiefs and other special assignments as Navy Chiefs. In Your Awesome Name I pray, Amen."
https://soundcloud.com/striderchaps/navy-chief-pinning-ceremony-prayer
Historical Context
According to Naval history, Chief Pinning Ceremonies have been held for more than a century.  At chief pinnings, guest speakers explain to the audience the significance of promoting to Chief (E-7) often sharing "this is not merely an advancement to the next paygrade but the transition of First Class Petty Officers to the rank of Chief Petty Officer."
The Pinning Event culminates six weeks of training, called Chief Season, during which time newly selected chiefs are prepared and trained in physically and mentally demanding exercises to forge them for the new leadership role into which they will be entrusted.
The Navy Chief Petty Officer Creed
This Creed summarizes the gravity of be pinning on the fouled anchors and donning the Khaki Cover of the Chief:
"DURING THE COURSE OF THIS DAY YOU HAVE BEEN CAUSED TO HUMBLY ACCEPT CHALLENGE AND FACE ADVERSITY. THIS YOU HAVE ACCOMPLISHED WITH RARE GOOD GRACE. POINTLESS AS SOME OF THESE CHALLENGES MAY HAVE SEEMED, THERE WERE VALID, TIME-HONORED REASONS BEHIND EACH POINTED BARB. IT WAS NECESSARY TO MEET THESE HURDLES WITH BLIND FAITH IN THE FELLOWSHIP OF CHIEF PETTY OFFICERS. THE GOAL WAS TO INSTILL IN YOU THAT TRUST IS INHERENT WITH THE DONNING OF THE UNIFORM OF A CHIEF. IT WAS OUR INTENT TO IMPRESS UPON YOU THAT CHALLENGE IS GOOD; A GREAT AND NECESSARY REALITY WHICH CANNOT MAR YOU – WHICH, IN FACT, STRENGTHENS YOU.
IN YOUR FUTURE AS A CHIEF PETTY OFFICER, YOU WILL BE FORCED TO ENDURE ADVERSITY FAR BEYOND THAT IMPOSED UPON YOU TODAY. YOU MUST FACE EACH CHALLENGE AND ADVERSITY WITH THE SAME DIGNITY AND GOOD GRACE YOU DEMONSTRATED TODAY.
BY EXPERIENCE, BY PERFORMANCE, AND BY TESTING, YOU HAVE BEEN THIS DAY ADVANCED TO CHIEF PETTY OFFICER. IN THE UNITED STATES NAVY – AND ONLY IN THE UNITED STATES NAVY – THE RANK OF E7 CARRIES WITH IT UNIQUE RESPONSIBILITIES AND PRIVILEGES YOU ARE NOW BOUND TO OBSERVE AND EXPECTED TO FULFILL.
YOUR ENTIRE WAY OF LIFE IS NOW CHANGED. MORE WILL BE EXPECTED OF YOU; MORE WILL BE DEMANDED OF YOU. NOT BECAUSE YOU ARE AN E7 BUT BECAUSE YOU ARE NOW A CHIEF PETTY OFFICER. YOU HAVE NOT MERELY BEEN PROMOTED ONE PAYGRADE, YOU HAVE JOINED AN EXCLUSIVE FELLOWSHIP AND, AS IN ALL FELLOWSHIPS, YOU HAVE A SPECIAL RESPONSIBILITY TO YOUR COMRADES, EVEN AS THEY HAVE A SPECIAL RESPONSIBILITY TO YOU. THIS IS WHY WE IN THE UNITED STATES NAVY MAY MAINTAIN WITH PRIDE OUR FEELINGS OF ACCOMPLISHMENT ONCE WE HAVE ATTAINED THE POSITION OF CHIEF PETTY OFFICER.
YOUR NEW RESPONSIBILITIES AND PRIVILEGES DO NOT APPEAR IN PRINT. THEY HAVE NO OFFICIAL STANDING; THEY CANNOT BE REFERRED TO BY NAME, NUMBER, NOR FILE. THEY HAVE EXISTED FOR OVER 200 YEARS — CHIEFS BEFORE YOU HAVE FREELY ACCEPTED RESPONSIBILITY BEYOND THE CALL OF PRINTED ASSIGNMENT. THEIR ACTIONS AND THEIR PERFORMANCE DEMANDED THE RESPECT OF THEIR SENIORS AS WELL AS THEIR JUNIORS.
IT IS NOW REQUIRED THAT YOU BE THE FOUNTAIN OF WISDOM, THE AMBASSADOR OF GOOD WILL, THE AUTHORITY IN PERSONAL RELATIONS AS WELL AS IN TECHNICAL APPLICATIONS. "ASK THE CHIEF" IS A HOUSEHOLD PHRASE IN AND OUT OF THE NAVY. YOU ARE NOW THE CHIEF.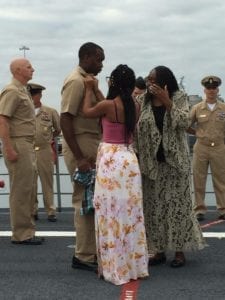 THE EXALTED POSITION YOU HAVE NOW ACHIEVED — AND THE WORD EXALTED IS USED ADVISEDLY — EXISTS BECAUSE OF THE ATTITUDE AND PERFORMANCE OF THE CHIEFS BEFORE YOU. IT SHALL EXIST ONLY AS LONG AS YOU AND YOUR FELLOW CHIEFS MAINTAIN THESE STANDARDS.
IT WAS OUR INTENTION THAT YOU NEVER FORGET THIS DAY. IT WAS OUR INTENTION TO TEST YOU, TO TRY YOU, AND TO ACCEPT YOU. YOUR PERFORMANCE HAS ASSURED US THAT YOU WILL WEAR "THE HAT" WITH THE SAME PRIDE AS YOUR COMRADES IN ARMS BEFORE YOU.
WE TAKE A DEEP AND SINCERE PLEASURE IN CLASPING YOUR HAND, AND ACCEPTING YOU AS A CHIEF PETTY OFFICER IN THE UNITED STATES NAVY."
This marks the most significant transition an enlisted Sailor can make in their career.
Navy Chiefs have mentored and shaped me. They've helped me accomplish tasks beyond number in the Fleet and ashore. I have found them to be straight shooters, resolved disciplinarians, humble, smart, dedicated and true subject matter experts.  They are excellent judges of character, with big hearts, and rarely time for many words. While there are many jobs they could do in life— they have chosen to be Navy Chiefs serving our Nation. They have all my respect.
---
Contributor: "The Warrior's Journey Team"
For further perspective on Navy Chiefs visit these articles linked below.
http://navylive.dodlive.mil/2017/03/31/10-things-to-know-about-u-s-navy-chiefs/
http://www.goatlocker.org/resources/cpo/cpopinning.doc
http://navylive.dodlive.mil/2018/09/13/chief-petty-officer-pinning-and-advancement-ceremony/