From Day 1 at boot camp, you dealt with simulated crisis environments. During a tour of duty you encounter high levels of risk and stress. Even a peacetime assignment can present crisis situations such as a natural disaster or a breakdown in civil order.
Your training gives you physical and psychological tools well suited to take you through a crisis. But you need more than your own training and skills because you are much more than a physical body controlled by psychological impulses. You are a created spiritual person who needs the help of your Creator. When you nurture your spirit through your relationship with God, you discover a Partner who is able to carry you through any crisis. He is with you when you grapple with the following "crisis questions."
When you nurture your spirit through your relationship with God, you discover a Partner who is able to carry you through any crisis.
1. I feel so alone, can anyone relate to what I'm going through?
In the middle of a crisis it's easy to believe that your anxiety and stresses are unique to you. In reality, you share a challenge common to everyone simply making it through the unpredictable obstacles of life.
"No temptation has overtaken you except such as is common to man, but God is faithful, who will not allow you to be tempted beyond what your are able, but with the temptation will also make the way of escape, that you may be able to bear it" (1 Cor. 10:13).
The word temptation goes beyond those moments of "the devil tried to make me do it." In 1 Corinthians 10 the apostle Paul had just described an array of challenges the Israelites faced as they fled from Egypt's army and began an arduous wilderness journey.
This passage reminds you there are many others who can relate to what you are facing. Just talking about your fears and stresses with a trusted fellow warrior can bring a great measure of reassurance. More importantly, you are not alone because "God is faithful." He already has your "way of escape" in place. His intervention in your life makes it possible to bear life's crises and overcome them.
2. Does the Bible really connect with my battlefront reality?
God's Word never sugarcoats the pain of combat, and the Bible includes "wartime footage" in several of its biographies.
Joshua spent most of his life in military service. He had a God-given mandate to lead the Israelites into Canaan to face an array of enemy armies. He could only undertake that mission because he had a promise from God:
"I will be with you. I will not leave you nor forsake you" (Josh. 1:5).
Your military career is important to God. His promise to Joshua holds true for you. God will never leave you or forsake you.
Mephibosheth, a civilian, was crippled by a lifeling war injury. He became lame when he was 5 because he fell as his family fled after his father's, Jonathan's, defeat (2 Sam. 4:3–4). King David cared for Mephibosheth in memory of his love for Jonathan. God knows your pain and your many needs when you are wounded in combat. He is your source of healing and comfort (Ps. 103:1–5; Isa. 53:5)
Daniel became a P.O.W. while in his teens. He saw his home city of Jerusalem defeated by the Babylonian army, and he was marched to a foreign land to spend his life in captive exile (Dan. 1). The prophet Jeremiah later witnessed the destruction of Jerusalem by the Babylonians (Jer. 39). In both cases, God protected His servants. God is with you even when an earthly enemy has the upper hand. You can trust God whether you experience military victory or defeat.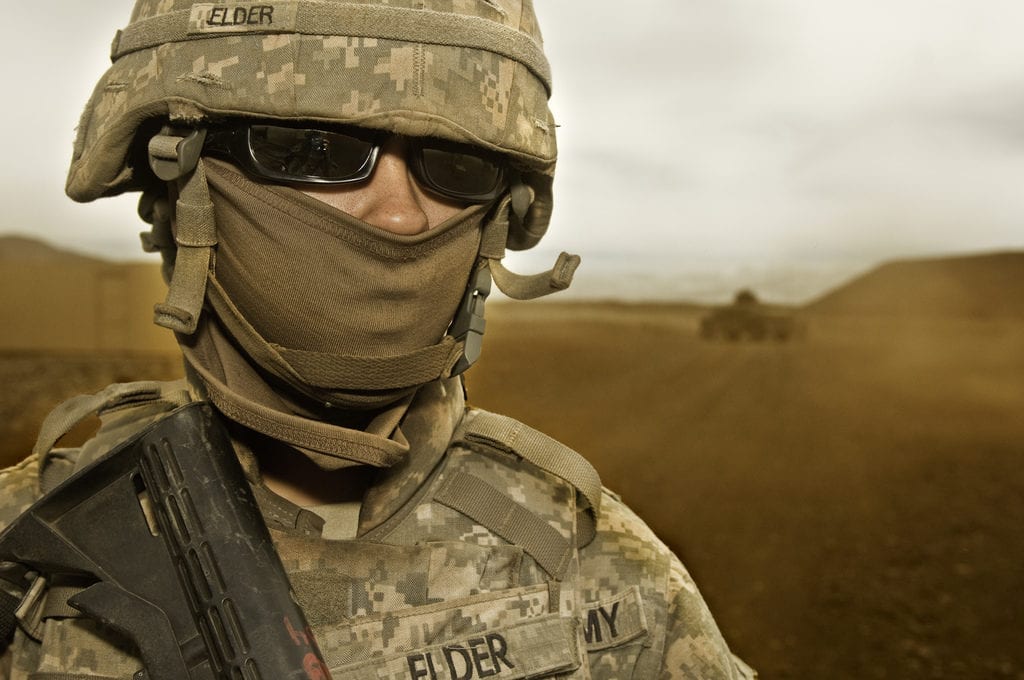 3. What steps can I take to defeat anxiety and hold onto hope?
Just as you have been trained to take action when facing a crisis, Gods Word gives you an action plan.
Pray
The Psalmist understood the value of prayer.
"Hear me when I call, O God of my righteousness! You have relieved me in my distress; Have mercy on me, and hear my prayer" Psalm 4:1.
The Psalms also reveal God's commitment to answer prayer.
"Because he has set his love upon Me, therefore I will deliver him; I will set him on high, because he has known My name. He shall call upon Me, and I will answer him; I will be with him in trouble; I will deliver him and honor him" (Psalm 91:14-15).
Study and find comfort in God's Word.
"Blessed is the man Who walks not in the counsel of the ungodly, Nor stands in the path of sinners, Nor sits in the seat of the scornful, But his delight is in the law of the Lord, And in His law he meditates day and night. He shall be like a tree Planted by the rivers of water, That brings forth its fruit in its season, Whose leaf also shall not wither, And whatever he does shall prosper" (Ps. 1:1–3).
Join with other believers to receive needed strength and encouragement- Throughout God's Word, His people overcame crisis in community. The Israelites rejoiced together on the shore of the Red Sea when God defeated Egypt's army (Exod. 15:1–2). The early church praised God when He protected the apostles in Jerusalem (Acts 4:23–24). As you share your needs with warriors of like faith, you will discover a mutual strengthening, a multiplication of peace, and additional reminders through their examples of God's faithfulness in your own life.
Remember, God is with you. Your Heavenly Father has placed some of His children in your life to help you navigate the crises you encounter. You are not alone. You are not helpless. Yes, you can make it through to victory.
---