Late last week, (October 13, 2017) a story appeared in the news about a man (named Xong) in Chongqing, China, who paid a company to build an elevator on the side of his seven-story apartment building. The apartment building was constructed at a time before building codes required elevators to be installed on such apartment buildings.
Now this would not be newsworthy were it not for one fact. The elevator only goes to his apartment on the sixth floor. That's right. In a seven-story apartment building, Xong built an elevator that only goes up to his sixth-floor apartment. This elevator only benefits him, while there's a building full of families who still have to climb the stairs.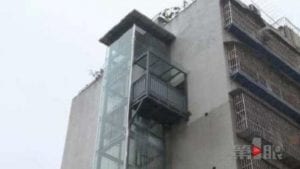 What happens if someone on the 7th floor decides he wants an elevator also? Will that neighbor build a second one that only goes to his seventh floor? Then what if someone on the 5th floor feels like he's being left out? Does he also build his own to take him to his apartment only?
Why not? You ask. It's their money and they can do whatever they want with it.
But wouldn't it have been better to make building an elevator a cooperative effort? They could have all chipped in to pay for an elevator that served all residents, rather than just one. After all, Xong's elevator had to be anchored to the building at every floor.
Plus, all the residents had to put up with the racket while the elevator was being constructed and holes were being drilled to fasten it to the side of the building. Why shouldn't they all benefit from it? It certainly would have been cheaper to install a single elevator that serviced all residents, than to install a dozen or more elevators for each individual family.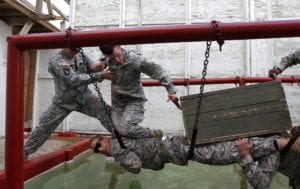 But aren't the same dynamics at work when one member of a team works or plays only for himself? And as Xong's neighbors were resentful and envious, because they didn't have their own elevator (hypothetically), doesn't a self-gratifying team player create disunity among the ranks by his own selfish pursuit?
Of course the same could be said of a leader that works only to benefit himself or herself, rather than looking out for the common good of the organization?
It's great to climb the corporate ladder, but who are we helping along the way?
Do we just use others as stepping stones to get to the top – as Xong used the entire building in the construction of his elevator, putting stress on the whole structure?
Jesus showed us a better way. Consider these words about Christ's example, written by the Apostle Paul.
"Do nothing out of selfish ambition or vain conceit. Rather, in humility value others above yourselves, not looking to your own interests but each of you look to the interests of the others.
"In your relationships with one another, have the same mindset as Christ Jesus:  Who, being in very nature God, did not consider equality with God something to be used to his own advantage; rather, he made himself nothing by taking the very nature of a servant, being made in human likeness. And being found in appearance as a man, he humbled himself by becoming obedient to death—even death on a cross!
"Therefore God exalted him to the highest place and gave him the name that is above every name, that at the name of Jesus every knee should bow, in heaven and on earth and under the earth, and every tongue acknowledge that Jesus Christ is Lord, to the glory of God the Father" (Philippians 2:3-11).
PRAYER:
Dear Father in heaven, help me to focus on Your Holy Son, Jesus Christ, that I may get a fresh dose of reality about what my priorities and goals should be. Conform me, O God, into His pure and selfless image, I pray. Amen.
---
(Information from: http://www.odditycentral.com/news/chinese-man-builds-elevator-that-only-goes-up-to-his-6th-floor-apartment.html)