Welcome! What you are about to read is Part II from "Gain and Maintain Margins," written by Lt. Col. Danny White, US Marines (ret.). We invite you to check out "Part I" found in the (Core Values: Discipline) section of our resources. Enjoy!
Mission vs Responsibility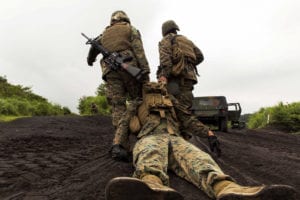 …Another point to remember is that even though you are a key member of your organization, you are not indispensable. If you possibly became sick for an extended period of time, your team very likely would discover how to get things done in your absence.
After Jenny and Danny's deaths, the Marine Corps reassigned me to an Inspector-Instructor staff in Greenville, South Carolina. This assignment allowed me to assess my new role as a single parent while exploring the feasibility of still serving as a combat engineer. For four months, I visited various duty stations and met with leaders for advice on whether to resign my commission and get out of the Marine Corps or continue serving.
It was an incredible slap of reality that the Marine Corps didn't stop functioning without me serving as part of a combat engineer unit. The Corps didn't grind to a halt. In fact, the Corps continued to march along.
They did not even miss a beat with me not on deck.
I wish that I had written down this lesson learned and reviewed it consistently after deciding to continue serving on active duty.
Alignment and Priorities
This lesson learned aligns with an observation I made as a brand new Marine completing my initial training at Quantico, Virginia. Our training class received a task, as part of our drill and ceremonies training, to put on a sunset parade for retiring Marines.
They selected me to serve as a member of the parade staff. This provided the opportunity to stand out in front of the formation in the center of the parade deck. From this position, I could see all the retiring Marines and their families and the medals, certificates, and flags presented to them.
That beautiful August evening scene, struck me and became forever burned into my memory. I remember a Marine standing by himself when his turn came to be recognized. (For the record, this Marine may have been single his entire twenty-plus year career.) They read his retirement orders, and retirement award citation. Then, the senior officer pinned the medal on his chest, and handed him an American flag. After this, the Marine stepped off smartly and returned to his assigned seat.
I remember thinking, "That would be so lonely to be at your retirement ceremony (after at least 20 years of service) and be standing there by yourself. I want my family to be there when I retire."
Hugs or Brass?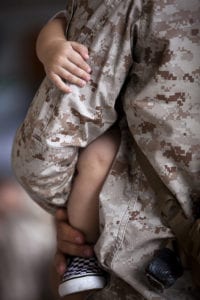 What I failed to remember was to write down this significant lesson learned/observation. After joining my first active duty unit, I slowly turned into a workaholic. Then years later as a senior officer, I almost destroyed my marriage due to being a workaholic at the Pentagon. If I had not had a serious wake up call, I likely would have received another promotion and/or another medal. This would have resulted in me standing alone at my retirement ceremony—due to losing my family in the process.
Having my wife and children by my side at my retirement ceremony will always far outweigh another promotion or another medal.
While, the medals and rank insignia are packed away in a box. The relationships with my wife and children continue to grow stronger and stronger, for which I'm eternally grateful.
---
The content of this article comes from "A Widower's Walk: From Desert to Destiny" (2014) and is copyrighted by Daniel F. White, II. Used with permission.