He did it. Just as he promised. The "King of the Wire," Nik Wallenda, tight-roped more than 1,800 feet across the mouth of an active volcano…
Walk by Faith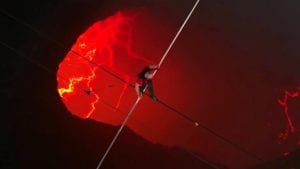 …For this challenge, Wallenda chose the Masaya Volcano in Nicaragua.  The walk, 1,000 feet above a churning lake of fire, was televised live on ABC.  The volcano was live as well, spewing hot and toxic gases, requiring Wallenda to wear a respirator.
The millions who watched this event saw some spectacular scenes.  This was particularly true of the pictures taken from above Wallenda, looking down into the fiery abyss.  But viewers also witnessed this daredevil's faith in action.  Nik Wallenda was not the least bit bashful about praying aloud and thanking God for His protection and presence.  A mighty big audience witnessed how this man of faith handles a crisis.  He prays to Jesus – all the way through the trial.
The Faithfulness of God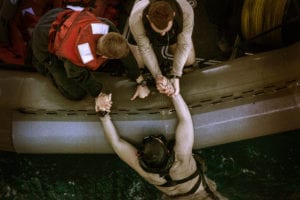 You know, that image of Nik Wallenda walking a tightrope over a fiery abyss may remind us of the Christian life.  We may feel at times as though we're negotiating a very narrow line and that any slip or mistake will send us falling headfirst into hell.  After all, don't the New Testament writers frequently admonish us to be steadfast in our faith (Romans 11:22; 1 Corinthians 15:2; Colossians 1:23).  In 1 Timothy Paul described those who had shipwrecked their faith (1 Timothy 1:19-20), fallen way from the faith (4:5), denied the faith (5:8), wandered from the faith (6:10), and gone astray from the faith (6:21).  And Jesus said that only those who endure to the end will be saved (Mark 13:13).
But friend, all these things are stated with the understanding that our salvation is the work of God, not the work of man.  God began the good work in us and He will perfect it until the day of Jesus Christ (Philippians 1:6).  Even as Paul wrote to the troubled Corinthian church he confidently stated that Christ would keep them strong until the day of His coming (1 Corinthians 1:8-9).  Jesus promised His disciples that He would give them eternal life, that they would never perish, and that no one would ever snatch them from His hand or God the Father's hand (John 10:27-29).
True, we are called upon to cooperate with God as He works in our hearts to desire to obey Him and to do His will (Philippians 2:12-13).  But God is able to keep us from falling and to present us blameless before His glorious presence with great joy (Jude 24-25).
Do Not Fear….Look Unto Jesus.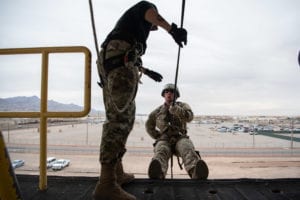 And we most certainly do not live in fear of God's wrath.  It is not a lake of fire beneath us, but the everlasting arms of God (Deuteronomy 33:27).  For Jesus Christ has forever satisfied God's justice and quenched His wrath for those who believe in Him (Romans 3:24-26).  Therefore, whoever believes in Jesus is not condemned, but has passed from death into life (John 3:18; 5:24).  God has placed us safely in Christ Jesus where there is no condemnation (Romans 8:1) nor any fear of God's wrath (1 Thessalonians 1:10; 5:9).  Rather than fearing damnation, we should be "looking unto Jesus the author and perfecter of our faith" (Hebrews 12:2).  He is the One who lives forever to intercede for us in heaven at God the Father's right hand (Romans 8:32; Hebrews 7:25; 1 John 2:1-2).
Not even Nik Wallenda focused on the dangers beneath his tightrope.  As he plodded the length of that cable, he pictured himself back in his own backyard, walking a rope just a few feet off the ground.  This way he could focus on what he was doing and not be paralyzed and distracted by fear.
And we'll be distracted from our Christian walk if we pay attention to the perceived threats around us.  We must not allow the winds and the waves to take our eyes off of Jesus – as Peter did (Matthew 14:28-33).  We must focus on Christ's all sufficiency to save us, to keep us, and glorify us in heaven (1 Thessalonians 5:23-24).
PRAYER
Dear Father in heaven, into Your capable and loving hands I commit my spirit, soul, and body.  I will not allow the howling winds and volcanoes to distract me from Your beloved Son.  For to Him You repeatedly point me, saying, "This is My beloved Son. Listen to Him."  I therefore, put my faith in Jesus and not in myself.  I trust His blood to cleanse me, His righteousness to clothe me, and His power to keep me and bring me safely into Your heavenly kingdom. Amen.
---
Photos:
-Below (Information from)
-https://www.flickr.com/photos/marine_corps/22673234487/
-https://www.flickr.com/photos/usairforce/47532756412/
(Information from: https://www.upi.com/Odd_News/2020/03/04/NIk-Wallenda-becomes-the-first-person-to-walk-over-an-active-volcano/6061583378093/?sl=1)