On the second day the heads of fathers' houses of all the people, with the priests and the Levites, came together to Ezra the scribe in order to study the words of the Law.
And they found it written in the Law that the LORD had commanded by Moses that the people of Israel should dwell in booths during the feast of the seventh month, and that they should proclaim it and publish it in all their towns and in Jerusalem, "Go out to the hills and bring branches of olive, wild olive, myrtle, palm, and other leafy trees to make booths, as it is written." So the people went out and brought them and made booths for themselves, each on his roof, and in their courts and in the courts of the house of God … And all the assembly of those who had returned from the captivity made booths and lived in the booths, for from the days of Jeshua the son of Nun to that day the people of Israel had not done so. And there was very great rejoicing (Nehemiah 8:13–17, English Standard Version).
A tongue-in-cheek joke told during overseas assignments goes like this: "Why do U.S. military serving overseas smile more than the local nationals? They have a DEROS."1 Military life is one of the best reminders of the temporary nature of life. A deployment will end, a PCS2 will happen, an assignment will change, a neighbor will move—and then this cycle will begin again. If you are unhappy with a person, a house, or a situation at one assignment, just smile and wait for the inevitable change that will come.
I know military wives who have a hard time viewing life through the lens of temporary. They struggle to adjust to the constant change. I know others who embrace the opportunity to experience new things.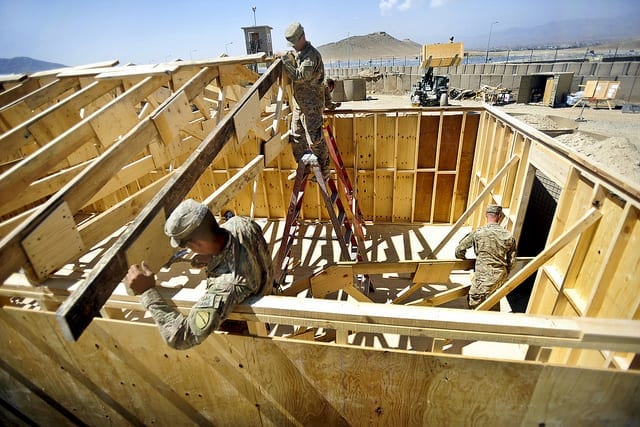 God's Word reminded these Jews of the temporary nature of life. They renewed the celebration of the Feast of Booths by building temporary shelters that replicated the tents of their ancestors' wilderness wanderings with Moses. They rejoiced together as a community over the grace of God that kept their families intact during the years of wandering. God not only sustained them but also returned them to the land of promise.3
A temporary view of life is a biblical view of life. This is not a morbid or melancholic focus. It is realistic, and for the Christ-follower it is hopeful. We have an eternal view. This world is not our permanent home. Just as the Feast of Booths reminded the Jews of God's provision and care in a transitional state, we can be confident the Lord is with us and will help us through all our transitions. Reintegration is an important transition, but for a career military family, it is one of many temporary transitions.
Military life is one of the best reminders of the temporary nature of life
Here's an idea. In your mind, build a booth for reintegration to remind you God is with you. Later you may want to build a PCS booth, a new assignment booth, or a deployment booth. Each time, reflect with your family on how God helped you through the last transition and how he will help you through this one.
Respond
What can we learn about the temporary nature of life from Ecclesiastes 3:11 and James 4:13–16? Which military experiences remind you of the temporary nature of this life?
Prayer for the Journey
Lord, give me an eternal perspective. Give me a grateful heart and a joyful spirit in this temporary life. Help me make the most of every opportunity. Amen. (See Colossians 4:5)
---
1 DEROS is an acronym for Date Eligible for Return from Overseas.
2 PCS is an acronym for Permanent Change of Station.
3 Hamilton, Exalting Jesus in Ezra-Nehemiah, 151.