A LiveScience.com article relayed some rather shocking news about one of Civilization's greatest artists – Leonardo da Vinci. He was crossed-eyed. Based on a study of six da Vinci self-portraits, researchers believe that the great Renaissance painter suffered from strabismus. This meant that he had monocular vision. He only saw a two-dimensional world. Because his eyes did not work in unison, his depth perception was disabled. 
The article explained that at least two other artists are known to have had similar struggles with monocular vision. They were Pablo Picasso and Rembrandt van Rijn. Yet, their inability to see a three-dimensional world in no way derailed their artistic careers. Actually, these artists – especially Rembrandt and da Vinci – became renowned for displaying depth in their paintings. How, then, did their artwork display such depth? How could they produce such amazing three-dimensional works?
It is believed that da Vinci and the others relied on other factors to determine distance and depth. For instance, objects that are closer appear bigger, brighter, and more sharply in-focus. Distant objects appear smaller, faded, and blurred. The same factors they used for determining depth and distance they also used to portray them on a canvas. In reality, their visual disability trained them to be better artists.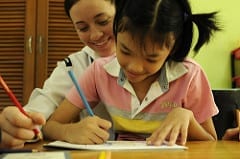 Perhaps similar dynamics are at work with those who become public school teachers. The most effective teachers are usually not those who found school as easy as breathing. The best teachers are those who themselves struggled in school. For not only can they empathize better with their students. They've also had to develop skills to aid them in learning – skills that they can teach their students. So, in a real sense, their "learning disability" has made them better teachers. 
And how does God reach sinners, addicts, and perverse people? Doesn't He use other sinners, addicts, and perverts – whom He has redeemed from lives of sin and shame? Look at what Paul the apostle writes in Ephesians 2:1-3.
"And you were dead in your trespasses and sins, in which you formerly walked according to the course of this world, according to the prince of the power of the air, of the spirit that is now working in the sons of disobedience. Among them we too all formerly lived in the lusts of our flesh, indulging the desires of the flesh and of the mind, and were by nature children of wrath, even as the rest".
Paul's describing us – sinners just as wicked as the rest. Yet God did the impossible in our lives. He redeemed us by His power and love. And this experience of going from "the gutter to grace" makes us uniquely qualified to bring others like ourselves to Jesus.
Yes, the very things we thought disqualified us from serving God – our brokenness, disabilities, and weakness – equip us to bless and save others.
Near the end of his life, Paul reflected on his own acts of violence against the church. There was a time when cited his persecution of the church as a sign of his zeal for the Law of Moses. Yet, now he realized just how much of a creep he had been and grieved over his cruelty. In the end Paul realized that God would use his own "gutter to grace" experience as a sign of hope for all sinners. People would look at Paul and say, "If God could save Paul, he can save anybody" (1 Timothy 1:15-16).
So, whatever disqualifying factors there are in your life put them all in God's hands. God will receive you as you are through His Son Jesus Christ. And, through Jesus Christ He will use the "whole package" of your life to make you effective as His instrument of peace.
 PRAYER:
Dear Father in heaven, please take the raw and broken material of my life and make me into the person of Your dreams. Accept me through Jesus Christ and use me as Your instrument of healing and peace in the lives of others. Amen.
---
https://www.livescience.com/63865-leonardo-da-vinci-eye-condition.html