One of the most successful U.S. submarines of WWII was the USS Bowfin. The Bowfin sank some 175,000 tons of enemy shipping (44 ships sunk – unconfirmed) on nine combat patrols.
Safety & Reality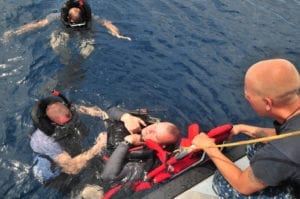 This sub rescued hundreds of sailors who were lost at sea. Downed pilots who crashed or parachuted into the Pacific, were also rescued.  In fact, the Bowfin picked up a total of 305 aviators who ditched their damaged planes in the Pacific.
However, conditions aboard the Bowfin were hardly accommodating to the rescued men.  The crew of 66 men lived in hot, confined conditions, with the scarcity of fresh water. Bunks had to be shared, and the pungent smell of diesel fuel and body odor filled the air.
Life was miserable.  But it was life.
Sea or Odor?
Regularly rescued sailors and airmen became appalled at the living conditions below.  In fact, the Bowfin's submariners recall one rescued Australian POW that asked to be returned to the waters of the sea "rather than to stay in this sewer pipe."  He completely failed to realize that certain death awaited him outside the submarine. The combat patrols did not last forever – usually only from 30-40 days.  He forgot that they would soon be safely back in port.
This is reminiscent of the Israelites in the Bible. After being delivered from the misery of slavery in Egypt, they actually desired to return to their slavery when life became difficult.  Somehow they forgot the horrific conditions from which God had saved them.
It is also like many Christians who, when facing adversity and temptation, turn back in their hearts to the misery God saved them from.
They forget there is nothing to go back to.
Each trial has a limited lifespan. We all will soon be safely back in port – forever.  The Scripture says: "For you have need of endurance, so that when you have done the will of God, you may receive what is promised." (Hebrews 10:36)
Prayer
Dear Father in heaven, I need endurance and the faith to look beyond my present suffering to see the eternal joys that await me in heaven.  Please help me to endure to the end so that I may not be ashamed when I stand before your judgment throne. Amen.
---