A young man's dreams were squelched by family responsibilities.
Sound familiar? It should. It's the story of most parents who place the needs and welfare of their children before their own. And it's the story of many older siblings who've had to set aside their personal pursuits to support their families.
A Dream Almost Dead
The young man in our story was Arun kumar Bajaj. He grew up in the state of Patalia in Northwest India. While he had helped out in his father's tailor shop since the age of 12, Arun's true passion was sketching and painting. His teachers at school recognized his exceptional talent and strongly urged him to pursue college and a career in fine art. Becoming a famous artist became his dream.
Yet when he was 15 years old his father died. As the oldest son, Arun had to quit school and take over his father's business to support his family. There was neither money to purchase art supplies nor time to devote to sketching and painting. Arun would now be chained to a sewing machine in a desperate attempt to keep his family fed.
A Dream Revived
But Arun refused to allow the artist within him to die. If he couldn't create life-like paintings from oils and watercolors, then maybe he could use a sewing machine and thread.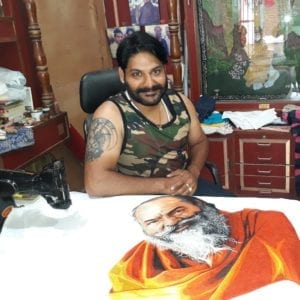 But how could a person do free-hand painting with a sewing machine? No one had ever heard of such a thing before. Yet, by devoting many hours in the evenings, Arun finally perfected a technique. Using nothing but his sewing machine and his business supplies, Arun began to create amazingly realistic pictures.
To be sure, it's hard and painstaking work. And it takes a very long time. One large mural required three years and 2,836,000 meters of thread to complete.
Yet Arun's many sacrifices are finally paying off. Now 35 years old, he's been able to sell his artwork to a worldwide audience, garnering between $220 and $146,853 per "painting." And guess what? His work has earned him national awards and his fame is spreading around the globe. Arun is becoming a famous artist after all.
The Right Thing
Don't be discouraged when your goals and dreams are repeatedly blocked and frustrated by family responsibilities. It happens to all who are brave enough to raise children. While there are children to feed, clothe, nurture, and educate, we are forced to put personal goals on the back-burner. It's the right thing to do, for we are all our families have.
True, it's a thankless job, except for two days out of the year—one for mothers and one for fathers. That's poor compensation for being a slave to our family's needs. But by doing so, we are fulfilling God's purpose for us as parents (1 Tim. 5:4, 8). We are also following the example of Jesus, who came not to be served but to serve and to give His life as a ransom for others (Mark 10:45).
And, who knows? There's a very good possibility that you will find your heart's desire by fulfilling your family obligations. Not only will you discover the love and joy that comes from investing your life in your family. You may also, like Arun, find an outlet for your passions and an opportunity to achieve your dreams.
PRAYER:
Dear Father in heaven, it seems I'm forever saddled with family responsibilities—both children and elderly parents to care for. When these burdens frustrate my aspirations, please make my heart content to fulfill Your purpose as a parent and to be a blessing to my family. Amen.
---
Information from: http://www.odditycentral.com/art/the-stunning-artworks-of-needle-man-the-worlds-only-sewing-machine-painter.html
Article photo: Arun kumar Bajaj profile via Facebook