When you hear the word "stingy," what do you envision? Likely, someone who is tight with his or her money. That is what I usually thought of when I heard that word.
Stewardship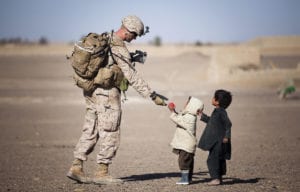 Throughout my adult life I have obeyed the Lord, and paid my tithes (ten percent) regularly to my church at each duty station. However, I had not been generous with the other ninety percent of my income. I had focused on my family (a little) and me (a lot) with what was left. Therefore, I did not recognize that all of it was God's and that He had entrusted it to me. I rarely ever gave an offering in addition to my tithe. I was in a figurative prison: stinginess with my money.
That all began to change after a December 1997 accident which claimed the lives of my pregnant wife Jenny and five-year old son Danny during a military move. In mid-January 1998, after helping coordinate the generous gift of two grave plots in the church cemetery (the equivalent of a $6,000 gift), the Faith Temple Church pastor, Rev. Raymond D. Burrows asked me to speak during a Sunday evening service.
The Invitation
"Brother Danny, I can preach about God's faithfulness from the Bible—Paul wrote twice in I Corinthians that 'God is faithful,'" he said. "But you're experiencing it right now. A saying I really like is 'He that has an experience is not at the mercy of a man who merely has an argument.' Would you please share what you're learning"?
Having spoken only a handful of times in chapel or church services, I felt nervous but agreed to speak on January 11, 1998.
To prepare to speak, I turned to a gift, from two mentors, given after Jenny and Danny's funerals—a copy of Jerry Bridges' Trusting God: Even When Life Hurts.
Bridges' book enabled me to ground myself with a solid base in the theology of suffering. I realized that God was trustworthy in this desert experience, even though I didn't understand why it all happened. Trusting God formed the basis of what I learned about God's faithfulness and what I would share at Faith Temple.
The Friday before I was scheduled to speak, my maternal grandfather gave me a $100 bill and said, "Son, I want to help you. I know how expensive funerals can be after your Mima [his first wife] died in 1989".
My grandfather is not a wealthy man. I appreciated his generous gift, for the balance for the two headstones (for my wife and son's graves) was due the following week.
The Whisper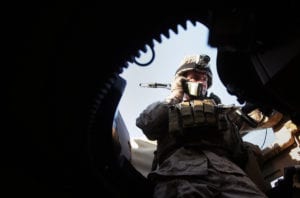 On the Sunday I was scheduled to speak in the evening service at Faith Temple, I sat in the 10:45 a.m. service. Right before the offering, I took a $20 bill from my wallet, placed it in a contribution envelope, and sealed the envelope. I felt pleased to be giving more than just my tithe. I had seen generous people help me with some of the funeral expenses, and I wanted to begin learning this concept.
In a quiet, gentle way during the offering prayer, the Lord spoke to my heart, saying, Give me the $100 bill.
In my mind I said, No way, Lord! I have to pay off the balance for the grave headstones next week. With that big bill to pay, I need that $100 bill—and a lot more. Tell you what, Lord. I'll give you a second $20.
I took out another envelope, placed both $20 bills inside and sealed it. I felt very impressed with my generosity and negotiation skills with God.
Again the Lord spoke: Give me the $100 bill. It seemed so real that I looked around to see if someone behind me was talking during the offertory prayer. No one was behind me.
Trust
Feeling completely foolish, I took out a third envelope and placed the $100 bill inside.  Placing the two $20 bills back in my wallet, I said, Lord, I feel like a complete nut! I hope that was you speaking to me. I don't know how I'm going to pay the bill that's due next week.
That evening I shared what God was teaching me during that desert experience with the adversity I was facing. Afterwards, Pastor Burrows said he felt the Lord leading him to take up an offering to help me. There was a small group attending that Sunday evening service, and I assumed the offering would be an honorarium and might replace the $100 I gave that morning.
After the service, I scurried in the dark through the rain to my GMC Jimmy and, once inside, turned on the dome light and opened the envelope, which contained a check. Seeing the amount, I began to sob brokenly. The church's offering was enough—almost to the penny—to pay off the balance for the headstones!
I wasn't alone in the desert I was passing through. I could trust God to provide.
Semper Fidelis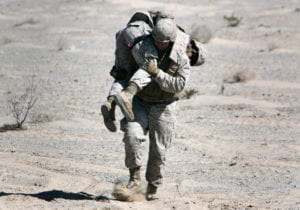 Another learning point involved seeing friends associated with The Citadel (my Alma mater) organize and contribute to an account that provided funds to help me with funeral bills. God was living up to one of his names: Jehovah-jireh meaning The LORD who provides.
And that wasn't the last learning point in my process of being freed from bondage to money. Colonel Ahearn, the Chief of Staff at Marine Forces Reserve, contacted me in March 1998, just as he had done almost weekly, to see how I was doing. During that March phone call, we exchanged general information, and he asked me if I had any financial issues. He didn't accept my nebulous answers and asked point-blank, "Do you have the financial means to pay for the funerals"?
Swallowing my pride I admitted, "No, Sir. I do not. I had all the life insurance on me as the Marine. Not on my wife or children". He specifically asked the amount owed for the funerals, and I told him.
Grabbing the Life Vest
Within two weeks, he told me to ask the Inspector-Instructor staff, where I was temporarily assigned, for a set of orders to fly to Washington, D.C., to meet with Major General Thomas Wilkerson, the Commanding General for Marine Corps Reserves. After Colonel Ahearn picked me up at Reagan National Airport, we went to lunch and then drove to Headquarters Marine Corps at the Navy Annex. I met General Wilkerson, and he presented me with a check from the Marine Corps Law Enforcement Foundation and another check from the Fisher House Foundation. Through Colonel Ahearn making some generous people aware of my situation, the funeral bills were paid in full!
On the return flight to South Carolina, I felt almost as if I didn't need the plane to fly back.
I was ecstatic beyond words to see God being Semper Fidelis ("Always Faithful") in providing for me when I could do nothing.
Having seen God repeatedly take care of my two small children and me increased my faith to trust him with all my finances and to be ready to give as he prompted, in order to help others who might need assistance in the future.
Reflection
So are you ready to trust God and become a generous person—with your money? Do you believe that God will meet your needs if you are generous? Prepare to be amazed at how 90% goes so much further with His blessing than 100% goes on your own.
---
The content of this article comes from "A Widower's Walk: From Desert to Destiny" (2014) and is copyrighted by Daniel F. White, II. Used with permission.
-I Corinthians 1:9 and 10:13
-Attributed to Thomas Myerscough