Have you ever had times when you felt unimportant or insignificant? Most of us have at one time or another. In a world with over six billion people, it could be easy to let ourselves think that our lives don't matter.
"For we are His workmanship, created in Christ Jesus for good works, which God prepared beforehand that we should walk in them" (Ephesians 2:10, NKJV).
A Special Work
But God's Word says the exact opposite, and nowhere in Scripture does the Lord make this point more clearly than in Ephesians 2:10. Each one of us is the special work of our Creator. He has designed each of us to do the good works that He has prepared ahead of time for us to do.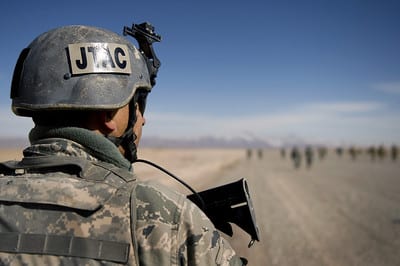 What are these good works that God has prepared in advance for us to do? Some apply to humanity as a whole. He wants us to be in a personal relationship with Him through His Son, Jesus Christ. He wants us to live holy in obedience to His Word. And, He wants us to love others and treat them as we ourselves would like to be treated. The Lord desires also that we tell the rest of our world about the love He showed in sending Jesus to be our Savior.
But at the personal level, the Lord issues special guidance for each of us as individuals. He calls some to serve in the military. And even within the military, the Lord designates people to serve in different capacities and equips each person to accomplish the missions and tasks within their calling.
The important point is this: God has created you with special purposes in mind; He didn't make a mistake. Do you presently have the assurance that you are where the Lord wants you to be and are you doing what He has designed you to do? Then trust Him and do what you are doing for His glory.
Growth
And to really grow as a Christian, claim the truth of this verse. Without question, the Lord has a special purpose for your life. So don't waste your time wondering if your life is worth anything. God says it is! If you don't have confidence that you are walking in His purposes, seek God through His Word and through prayer. Don't give up. Our Creator will show you what He wants you to do.
---
The content of this article comes from "The Warrior's Bible" (2014) and is copyrighted by Life Publishers International. Used with permission.
In article photo: 110217-F-DT527-085 by the U.S. Air Force licensed under U.S. Govt. Work