In his book, Turning Hurts into Halos: and Scars into Stars, Robert Schuller tells of having toured most of the royal palaces throughout Europe and Asia.  He claims that one of the most amazing and glorious is the Golestan Palace in Tehran, Iran.  Among its many rooms, the "Brilliant Hall" is famous for its dazzling mirror work.  Dr. Schuller described its walls as mosaics of tiny mirrors that brilliantly reflected light from its windows and chandeliers.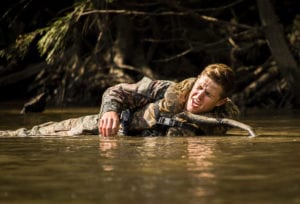 Dr. Schuller learned that the original plan (between 1896 and 1907) for the walls of the Brilliant Hall called for large sheets of mirrors.  These mirrors were ordered from Paris.  However, when the mirrors arrived, they were shattered in pieces.  But instead of tossing the broken mirrors, the hall's architect had a stroke of genius.  He knew that the facets of a crystal better reflected its brilliance than the smooth surface of a crystal ball.  So he broke the shattered mirrors into tinier pieces and had his artisans create from them spectacular mosaics.  Somehow the broken pieces of mirror did a phenomenally better job of reflecting the light than flat sheets of mirrors.
Various applications have been made from this story.  But it reminds me of how God can take the profoundly destructive mistakes of our lives and incorporate them into His divine plan.  I strongly suspect that God must use the failures of believers to bring about good.  For one reason, failures are often all God has to work with.  When God finds us, our lives are often so shattered there's nothing but broken pieces.  And since God doesn't wait until we're perfected before He places us in His service, we're bound to screw things up again and again.  And remember, God anticipates every one of these failures.  Jesus anticipated Peter's denial.  But He already had a plan in place to use this failure so that Peter could more effectively strengthen his brothers (Luke 22:31-32).
The older I get the more past failures arise to haunt me.  Many times, I breathe an audible sigh as I grieve over some stupid past mistake.  Real or perceived failures from the past even torment me in dreams.  But God is teaching me not to obsess over my own failures nor overly grieve.  For such grief can become a tool of Satan to bring me down.  Rather I should focus on the Lord Jesus Christ and trust in His awesome power, wisdom, and love to weave all my failures into something beautiful for His own purpose and glory.
Just look at the Scripture.  Judah was the one who cooked up the plan to sell his brother as a slave to the Midianites.  Yet God used this failure – and many others – to break up Judah's prideful spirit and humble him.  In fact, God brought Judah to the place where he was willing to offer his own life for the sake of his brother Benjamin, rather than cause his father Jacob any more grief.  Of course, Joseph would go on to explain that God even used Judah's evil deed to ultimately bring about the salvation of humanity (Genesis 37:25-28; 38:6-26; 44:18-33; 50:20).
In one way it's very appropriate to grieve over sins, offenses, and mistakes.  It may be a sign that God is making us more Christ-like and more keenly aware of our past failures.  But such grief can become toxic when it turns us inward instead of Christ-ward.   Grief over failure should turn our faith to Jesus.  It should humble us.  And it should cause us to seek God that He might turn our brokenness into something beautiful for His purpose and glory.
PRAYER:  Dear Father in heaven, it seems at times that all I have to offer you is a long history of brokenness and failure.  Please, dear Father, redeem these broken pieces and by your infinite wisdom and power use them for Your ultimate good and glory.  Even as You took humanity's worst atrocity – the murder of Your holy Son – and transformed it into Your greatest act of redemption, bring good out of my evil.  In Jesus' mighty name I ask this. Amen.
(Information from: Robert Schuller, Turning Hurts into Halos: and Scars into Stars; https://en.wikipedia.org/wiki/Golestan_Palace)
---