On January 21st, 2020, the National Weather Service (NWS) issued an "Iguana Alert" for the people of south Florida…  
Invasive Distractions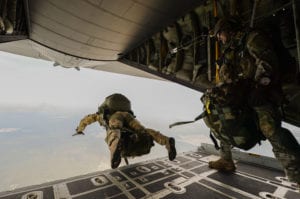 …What in the world for?  Well, it seems that whenever temperatures in south Florida dip down to the 40's and 30's, Iguanas tend to go into shock and become immobile.  Because they normally roost in trees, the cold weather will cause many of them to fall to the ground.  Since this might alarm many people, the NWS issued the warning to place their minds at ease.  It's not an iguana attack or an iguana apocalypse.  Far from it.  It's a sign that these "spiny dragons" are at their weakness.  They're merely falling, not invading.
Actually, the iguanas of south Florida – which can grow five feet long – are considered an invasive species.  They're native to Central and South America – and to some Caribbean islands, but not to Florida.  Because of this, they do not enjoy the legal protection that the native alligators do.
Victorious Hope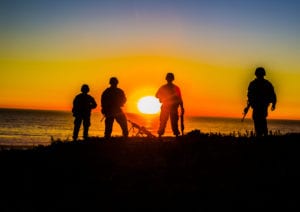 But the scene of iguanas falling to earth reminded me of something in the Bible.  In Revelation 12:7-12, we witness the scene of Michael and his angels warring against the great red dragon (Satan) and his fallen angels in the heavens.  But since the devil and his angels have been severely weakened by the crucifixion of Jesus (Colossians 2:15; Hebrews 2:14), they cannot stand up to Michael, the Archangel.  They are driven from the battlefield and fall to the earth.
But shouldn't this be a cause of great alarm for the world.  Yes, since it's a sign the judgment of God against humanity is near.  But it's no cause for alarm to the people of God.  For Jesus said, "But when you see these things begin to take place, straighten up and lift up your heads, because your redemption is drawing near" (Luke 21:28).
Yes, it may seem that all hell is breaking loose down here, as we approach the end of the age.  It will seem like Satan is having a heyday.  Yet, don't be deceived by all the tumult around you.  Satan is only roaring his loudest because he's at his weakest.  He's making the most noise he's ever made because his time is very short and his doom is very near.
It's a sign that Christ's coming in power and glory is about to break upon us. It will bring an end to Satan's kingdom and usher in the establishment of the Kingdom of Christ.  Don't be alarmed.  Pray!  Rejoice!  Your redemption is very near.
PRAYER
Almighty and merciful Father, though Satan, his demons, and all the ungodly are raging around me, please keep my eyes and my faith fixed upon Jesus.  Only then can I, like Jesus, endure the adversity and tribulation of this life (Hebrews 12:1-3).  Help me to stay busy in Your service and to lay up an eternal treasure in heaven. Amen.
---
Photos:
-https://www.flickr.com/photos/soldiersmediacenter/17325515825/
-https://www.flickr.com/photos/marine_corps/39133321802/
(Information from: https://www.kansascity.com/news/nation-world/article239519863.html)