He was in a Scout Platoon, lean with lots of muscle. Lifting weights helped him cope with the stress and anger he brought back from deployment, but it wasn't working anymore.
He missed formations, got into fistfights, had panic attacks, and cried for no reason. He didn't understand what was going on, nor did his chain of command. One day he texted his chaplain, "I need you to stop them. They're making me go to the range. I'm not sure what I might do with my weapon. I'm dangerous."
"I will extol You, O Lord, for You have lifted me up, and have not let my foes rejoice over me. O Lord my God, I cried out to You, and You healed me. O Lord, You brought my soul up from the grave; You have kept me alive, that I should not go down to the pit" (Psalm 30:1–3, NKJV).
It's normal to experience post-combat stress, especially if you've had traumatic experiences. It's what you do with these experiences that can make or break you. That's why Department of Defense policy protects Service Members from reprisal for seeing mental health providers.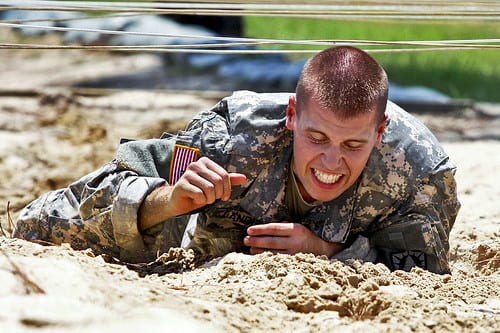 You might be wondering if you have PTSD. When is it time to get help? How to get help? If this is the case, don't let your ego get in the way. Many have avoided help and only made matters worse, losing their career, their family, even their life. Others pushed past their embarrassment, got the help they needed, and came out healthier on the other side. Your chaplain can help you, will keep everything you say strictly confidential, and is uniquely qualified to address the spiritual component.
There is evidence in Psalm 30 that David experienced PTSD after a battle. He turned to the Lord for help, cried out to God, and discovered that the Lord can bring healing and freedom from the inner torment.
Never underestimate God's ability to help as you seek His wisdom, comfort, guidance, and strength.
If you experience traumatic stress symptoms for more than three months after redeployment, it's probably wise to pay a visit to your chaplain, a doctor or counselor at the health clinic, a civilian counselor, MilitaryOneSource, or a small group at your chapel or a local church. The journey of a thousand miles begins with the first step. So take that first step. And remember, you are not alone. A lot of people in the military have walked this path before you. Even King David.
---
The content of this article comes from "The Warrior's Bible" (2014) and is copyrighted by Life Publishers International. Used with permission.
Photo: Get low by the U.S. Army. Licensed under CC BY 2.0.
---