Preparing for a marathon is hard enough. Running a marathon is even harder. With this understanding it would be horrifying to see any marathon runner fall and injure themselves. Especially if they injured their knees, hands, and elbows only 36 feet from the finish line? Then, with the clock ticking away, try to struggle to their feet, but suffer such excruciating pain that they fall again.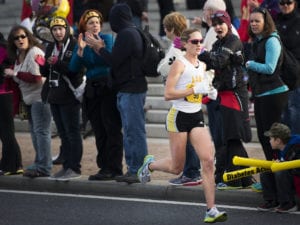 Then, to try to crawl on their hands and knees in fear of getting derailed after coming so far. But they cannot do it, for the rocky road surface hurts the very parts of their bodies where they have been injured. Then, finally, in absolute desperation, they roll their body like a log towards and across the finish line.
For Devon Bieling, who suffered this pain and indignity in the Washington State Marathon, it became the most embarrassing and humiliating experience of her life. It also happened in front of hundreds of spectators. Then, to her horror, Devon Bieling discovered the entire exposition was captured on video and played to millions of people! As Bieling viewed the videos, while the whole ordeal replayed itself in her mind hundreds of times, she beat herself up for being so careless to have fallen.
Then the messages started coming in. They were from physical therapy patients, people recovering from surgeries, people who suffered strokes, accidents, and serious illnesses. Messages poured in from every person facing a terrible challenge – thousands of messages.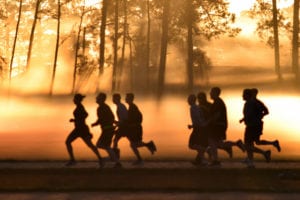 And what did these messages say? They told Bieling that her determination to finish the race inspired them. Her determination as well gave them hope. It pushed them out their self-pity to a new resolve to recover and be productive once more. Devon Bieling realized that her pain – both physical and emotional – became a gain in the lives of many others. She began to learn that many of the "senseless sufferings," we go through in life are meant to ultimately bless others.
Devon explained, "I've been so hard on myself and then I read all the nice things people were saying and how they were inspired and it was making them believe in themselves while in PT or recovering or taking tests. I was embarrassed and humbled even more than I'd thought I'd ever be. I'm thankful God let me see that it isn't about my feelings, but how it's helping others."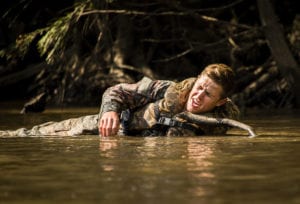 Paul the apostle had something to say about this. In 2 Corinthians, chapter one, he explained that God allows us to sometimes suffer, but not only for our own spiritual growth and transformation into the image of Christ.
Paul states that our afflictions are also for the benefit of others. "Blessed be the God and Father of our Lord Jesus Christ, the Father of mercies and God of all comfort, who comforts us in all our affliction so that we will be able to comfort those who are in any affliction with the same comfort with which God comforted us.  For just as the sufferings of Christ are ours in abundance, so also our comfort is abundant through Christ. But if we are afflicted, it is for your comfort and salvation; or if we are comforted, it is also for your comfort" (2 Corinthians 1:3-6).
In other words, our suffering makes us more equipped to help and bless others who go through similar suffering. Paul would agree with Devon.
"You're right.  It's not all about us or our feelings. It's about how God can bless others through us."
PRAYER:
Dear Father in heaven, though I see no possible purpose in my present suffering, I have a growing suspicion in my heart that somewhere, down the road You will bring someone into my life and my bitter experience – and the comfort You gave me in it – will give hope and life to them. Therefore, O God, may Your holy will be done. Amen.
---
(https://www.upi.com/Odd_News/2017/09/19/Marathon-runner-takes-a-fall-rolls-across-the-finish-line/7331505846919/?utm_source=sec&utm_campaign=sl&utm_medium=5)