"If we say we have no sin, we deceive ourselves and the truth is not in us" (1 John 1:8).
It's interesting that the Apostle John should make such a statement. We typically characterize John as defining Christianity in terms of light and darkness, love and hatred, and of being born of God or born of the evil one. But here John states emphatically that if we maintain our innocence and that sin is not present in us—then we're not only deceiving ourselves but God's truth has no place in us. Thus he strongly suggests that the presence of truth in us does not mean the absence of sin.
Is it possible that there is both light and darkness, both truth and sin, both good and evil within us—yet still we are on the path of righteousness? Look at what John says in 1 John 1:7: "If we walk in the light as He is in the light." This sounds like a sinless life. But then John describes the result. "The blood of Jesus His Son keeps cleansing us from all sin." This sounds like there are sins that pop up in our lives that require Christ's cleansing blood.
A Prevailing Force
Yes, being a believer in Jesus Christ does not mean we live sinless lives. It does mean that, despite our failures and flaws, the truth of God and Spirit of God are the prevailing forces in our lives.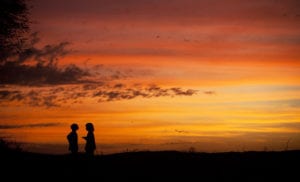 In the 1980s I was the pastor of a small church on the South Plains of the wind-swept Texas Panhandle. As I traveled daily to the Panhandle's largest city—Lubbock—I noticed how the trees of that region (just a few Junipers and Cottonwoods) were all "bent to the north." They all grew with the leafy branches pointing to the north. Why? They grew this way because of the prevailing wind from the south which steadily pushed them in a northerly direction. Sure, there were occasional storms out of the north that hammered the trees and pushed them in the other direction. But the prevailing force in their lives was that southerly wind.
It's much the same in the life of the Christian disciple. Storms of temptation push and tilt him in the wrong direction. But the prevailing force in his life is God's truth and God's Spirit, always nudging him in God's direction, always shaping his character, and ultimately determining his destiny.
So do not grieve too deeply over the darkness that remains within you. Don't be overly distressed because of your failures. Like the needle of a compass that gets bounced to the east and to the west, but makes its way back to Magnetic North again and again, so you, as a believer in Jesus, will keep coming back to the Lord Who loves you.
PRAYER:
Dear Father in heaven, I confess my sins and failures to You. Please forgive me and cleanse me. Feed me from Your word and fill me with Your Spirit. Please, dear Lord, may they be the prevailing force in my life, always bending me in Your direction. Amen.
---
In article photo: New Neighbors by the U.S. Marines licensed under U.S. Govt. Work