It is common among artists to view their works quite differently from the way the public views them.
Often what the public loves and acclaims most, is far from the artist's favorite. This is especially true among songwriters. Often what becomes a number one hit, is far from the songwriter's favorite. On the other hand, the public frequently does not appreciates or notice what the songwriter loves and cherishes most.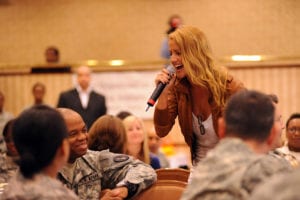 For instance, consider one of America's greatest songwriters—Irving Berlin. He wrote and composed music for more than 1500 songs. 1000 of these became published, of which 282 reached "top ten" in the nation. 35 of these became "Number One" hits. Among these hits were, "Alexander's Ragtime Band," "There's No Business Like Show Business," "Puttin' On The Ritz," "Blue Skies," "A Pretty Girl Is Like A Melody," "Cheek To Cheek," "Easter Parade," "God Bless America," and "White Christmas" These made Irving Berlin widely recognized as America's greatest song writer. Yet in an interview with the San Diego Union's Don Freeman, Berlin commented, "I wish someone would ask me what I thought about those songs of mine that never became hits—I'd tell them that I loved them all." Like many other artists, Berlin considered some of his more obscure works to be his treasured children—too personal to gain widespread acceptance and recognition.
I think at times of those of God's children who walk this world unloved, unappreciated and largely ignored. I wonder if they are like the artist's favorite songs. Mostly I suspect they bring special delight to their heavenly Father. Truly, many of the greatest men and women of God have been misfits in society—misunderstood and unappreciated. But like the undervalued works of the artist, they are held more nearly to the heart of the God they serve.
If you feel like you're an outcast, if you feel like others ignore you, if you feel like you're invisible to others—then remember this. Never base your value upon the way others treat you. Never forget that, like the favorite songs of the songwriter, you bring special delight to the heart of your Creator.
"How precious, O God, are Your thoughts concerning me?" wrote David in Psalm 139:17–18. "How vast is the sum of them? If I were to count them they would outnumber the grains of sand." You are in God's thoughts. He loves you and delights in you.
PRAYER:
Dear Father in heaven, when I feel the sting of rejection and bigotry, remind me that I am loved by You—and Your love is all that matters. Amen.
---
In article photo: Leigh Jones to headline I. A.M. Strong by the U.S. Army licensed under CC BY 2.0