This past weekend was not the most productive two days of my life. I spent most of it in dreamland. But, I have no regrets. It was rainy both Saturday and Sunday, my wife was visiting our oldest son in Portland, and I needed the rest. So, I slept. And dreamland lived up to its name. I did some serious, vivid, Technicolor dreaming.
Now, I rarely try to find meaning in dreams. Real-life provides enough puzzles to solve and offers too many life-lessons for me to focus on a few fading dreams. But I'll make an exception this time.
My Dream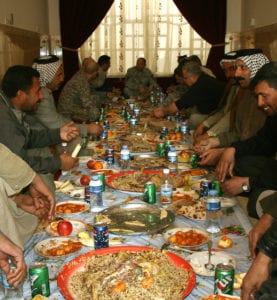 I recall that, on Saturday afternoon, I was dreaming that I and my scattered family were trying to find a place to sit down during the dinner hour at a very expensive hotel. It was a very large, multi-storied hotel with multiple dining areas. But in every one of them people sat at every table. "Let's wait a bit and try again later," I recall saying. But in the dream my attention shifted.
When we picked up the pursuit to find a place to sit down, we realized the diners only had desserts available. Additionally, the waiters were all cleaning up. "Don't tell me it's too late for dinner! Is there nothing left to eat," I protested to the Maître d'. He shrugged his shoulders, gave a look of indifference, and pointed to the fact that it was time to clean up. Then he motioned to the residue left on the serving trays—as if I should "make a meal" from the "scraps."
An old feeling of resentment and anger came to the surface, a feeling of being left-out and short-changed. Yes, this had always been the story of my life—and now it's happening all over again. I refused to receive such poor treatment. I shelled out money to stay at the hotel and I wanted what was mine. But this was at the end of my dream and somehow I sensed this "dream quest" for food was actually due to actually being physically hungry. Yet in this particular dream I resisted waking up—as if thinking, "I insist on being fed before I leave." But the dream kept fading and while I was still in the twilight zone, the thought came, "Let it go. Just wake up and eat."
Letting It Go
Let it go. Just wake up and eat. Leave the dream behind and wake up to a brighter reality in which God will meet my needs, satisfy my hunger, and heal my hurt. Leave the resentment and darkness behind and face the glorious sunrise with its promise of a bright future.
Every time a person comes to Jesus Christ for divine forgiveness and eternal salvation, the message is the same. "Give up the garbage of the past—the unsettled scores, the things done to you and the things you wish you'd left undone. Let it go. Wake up to a brighter reality. Embrace Christ and receive His love completely and unconditionally forever."
And, every time someone wrongs us, belittles us, or takes what is ours—Christ's message is the same. "Let it go. Wake up and be satisfied with Christ's unsearchable riches."
The President's Brother
I recall a story told by Rev. Willard Teague, a missionary to West Africa. He had labored as a missionary in a country where the President had a rags-to-riches story to tell. From the humblest beginnings in a remote village, he had risen to achieve the highest rank in his country. But he did not forget those he left behind. He inquired of his family and learned that all that remained was a younger brother. So, by special delivery, the President sent word to his brother, still living in a hut. "Come, my brother. I am alive and well and now live in the Presidential Palace. Come and live with me in wealth and luxury."
Help Moving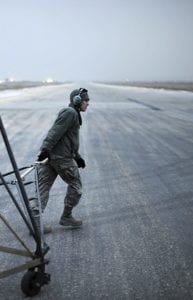 So, the poor brother gathered all his belongings in a ragged, old trunk, tied together with a rope. He traveled many miles on foot, dragging his trunk along. But as he drew closer to the Nation's Capital, he had to walk along a busy highway. The driver of a very small sports car pulled alongside this brother and offered to give him a lift. "Man, you need to get off this road before someone runs you over. Hop in and I'll drive you to the city."
But as the brother turned to drag his large, dirty trunk it was obvious that it would not fit in the car. "I have no room for that old trunk. Can't you leave it behind?" the man explained.
"I cannot give this up, it's everything I own. I cannot come empty-handed to my brother, the President."
"Your bother is the President? I'm one of the President's ministers. And I'm telling you to leave that garbage behind, get into my car, and I will drive you to your brother's mansion where he can give you a thousand times more than that."
A Tragic End
Yet, despite the man's pleading, the poor brother refused to enter the man's car. Instead, he clung tenaciously to his prized possessions.
The minister immediately sent word to the President that his brother was traveling on the highway and could be identified by the large trunk he dragged along. The President sent his limousine to fetch his brother. But to the President's deep grief he learned that his poor brother had been struck and killed by a truck along the highway—just minutes after the minister left him.
Our Own Garbage
Are we dragging along the garbage of the past? Are all our wounds, regrets, and unsettled scores in that trunk that we drag along? Further, are we robbing ourselves of God's forgiveness by refusing to forgive those who have trespassed against us? Let it all go. Wake up from that bad dream—and experience forgiveness, healing, and salvation forever.
"I once thought these things were valuable, but now I consider them worthless because of what Christ has done. Yes, everything else is worthless when compared to the infinite value of knowing Christ Jesus my Lord. For his sake I have discarded everything else, counting it all as garbage, so that I can gain Christ." (Phil. 3:7–8, New Living Translation).
PRAYER:
Dear Father in heaven, open my blind eyes to see the unsearchable riches I will find in You, if only I will let go of the garbage I cling to and flee into Your loving arms. Amen.
---
In article photo in order of appearance: Warhorse Soldiers meet with local sheiks by the U.S. Army licensed under CC BY 2.0
One-man job by the U.S. Air Force licensed under U.S. Govt. Work