Julien Berthier is a French avant-garde artist who is best known for the creation of his Love Love yacht. The Love Love yacht is a boat like no other. It looks like a sailing vessel about to sink – perched in the water on a 45 degree angle as if it's ready to slip to the bottom of the sea.
But it's purposely made to look that way. Berthier took an actual yacht, cut it in half, sealed off the stern with a fiberglass bottom, and then added a heavy keel, motor, and propeller.
Why? He explained he did it to "freeze the moment just a few seconds before the boat disappears, creating an endless vision of the dramatic moment." And although it appears to always be in crisis, Berthier states that it's actually very easy to handle – especially in calm waters.

One article claims that Berthier has sailed around the world in this "motorized buoy," yet it also confesses that he primarily sticks to famous harbors (e.g. Canary Wharf, Normandy Harbor) where he can garner loads of attention. The artist claims to have alerted the coast guards of many nations which routinely "come to the rescue of this vessel in crisis."
I'm no psychologist. I cannot wax eloquent on hypochondria or Munchausen Syndrome by Proxy. But it seems to me that this boat – which is probably an extension of the artist's personality – is like many people around us.
Their modus operandi is to always appear in crisis. They are the persons who love to expound on their troubles, their ailments, and their victimhood. They will amaze you with their ability to cram their life of woe into a five-minute "Hello, how are you" greeting. Do they do it to manipulate others, to draw attention to themselves, or to bleed the compassionate of their last drop of mercy, or simply as a cry for help?
Only God sees and knows the hearts and motives of people.
But I do know this. They are usually miserable people – as are all who are completely self-absorbed, never knowing what it is to love and be loved.
True happiness only comes when we break out of self-imposed prison of egocentrism and focus our concerns on pleasing God and caring for others.
Even Jesus said, "There is more joy in giving than in receiving" (Acts 20:35).
"Sinking ship people" need to stop playing the part of the victim and the damsel in distress. They need to start counting their blessings, hunt for the good in their lives, and develop an attitude of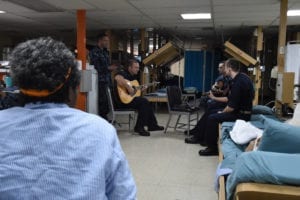 gratitude. They need to recognize their divine calling to serve others. Otherwise their lives will be nothing but a series of crises in which they are always about to perish.
Living such a tepid life will forever confine your ship to harbor. Ships are safe in harbor, but that is not what ships are for. Ships are built to weather the high seas and catch the beauty of the earth.
PRAYER:
Dear Father in heaven, please examine my heart and correct my selfish motives. Turn my vision outward and open my eyes to the needs and suffering of others. Please make my life a blessing and not a burden. Make me, O God, an instrument of Your peace and healing in the lives of others. Amen.
---
(Information from: http://www.odditycentral.com/pics/french-artist-sails-around-the-world-in-a-sinking-boat.html#more-21165; https://en.wikipedia.org/wiki/Julien_Berthier)