They call him "Cycleangelo."
He's a 50-year-old cyclist in Victoria, British Columbia who does an amazing thing with his bicycling. Using his GPS device Stephen Lund draws gigantic pictures.
He began in January 2015, when he used his GPS and a lot of cycling through the city of Victoria to draw out the words, "Happy 2015". Through the rest of the year he "doodled" a total of 85 giant pictures across city maps of Victoria and Ottawa. His pictures include sketches of animals, dinosaurs, Star Wars characters, portraits of ruling monarchs, da Vinci and Michelangelo replicas, and many other complex images.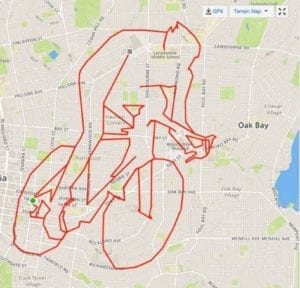 This sketching is no easy feat. One reporter explains, "His drawings require an immense amount of planning to determine the proper route and to figure out if he will complete it in one continuous ride or "connect the dots" by turning his GPS on and off." Lund must often cross fields and parks to draw lines where no roads exist. And, of course, a typical picture demands many hours of effort to ride his bike back and forth across town, with endless winds and turns that would make absolutely no sense to a casual observer.
Now suppose Stephen Lund did all of this "bicycle doodling" on a tandem bike, you know – on a "bicycle built for two." And suppose he took you along as his cycling companion – without giving you any knowledge of his planned route or its overall purpose. As he took repeated turns and diversions from the main route and often departed from paved roads entirely to cut across fields, what would your reaction be?
"What in the world are you doing? None of this makes any sense! Where are you taking me? You're going the wrong way! Have you gone crazy? I hope you know what you're doing, because I'm totally confused!"
I suspect your reaction would be much the same as our reaction is to the twists and turns God takes us on this seemingly "crazy ride of life." While we are forever trying to make sense of the route our lives are taking, God constantly seems to confuse us by diverting our course in unexpected directions. And, just when we're beginning to "figure it out," God leads us in a totally different direction that blows our theory to shreds.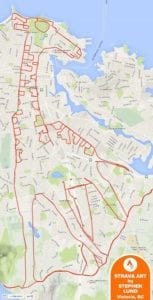 To keep our sanity, we simply have to trust that God has a plan. That He is using all these meaningless twists and turns to paint a beautiful picture with our lives. Yes, we must trust that God has a plan. He knows exactly what He's doing. We will not be able to make much sense of things until the end of our journey. Then He will show us the finished masterpiece.
In the Scripture the apostle Paul confessed, "Oh, the depth of the riches of the wisdom and knowledge of God! How unsearchable are his judgments, and his paths beyond tracing out! Who has comprehended the mind of the Lord? Or who can be his advisor?" (Romans 11:33-34). Yet, in the same book, he assured us, "God causes all things to work together for good to those who love God, to those who are called according to His purpose" (Romans 8:28).
Yes, we'll be mighty confused, disappointed, and sorrowful at times. But God will make sense of it all. Trust His wisdom, power, and love. He is working all things together for your good and His glory.
PRAYER:
Dear Father in heaven, so often I am confused and quick to accuse You of making mistakes and failing me. Forgive my rushes to judgment and wrongful accusations. Help me to trust – and rest in – Your power, wisdom, and love. Amen.
---
Information from http://www.upi.com/Odd_News/2016/05/11/Canadian-cyclist-creates-doodles-using-GPS/7081462985161/?spt=sec&or=on; http://www.odditycentral.com/art/canadian-cyclist-rides-his-bike-around-town-to-create-artistic-gps-doodles.html