It seems to me that God either places us in a position to help others or to be helped by others.
Carrying Another's Burden
I've been on both ends of that transaction—blessing and being blessed, of giving and of taking, of helping and of being helped, of carrying a burden–and of being a burden. Believe me—it's far better to help than to be helped.
Sure, when others cannot carry their own load and I'm forced to shoulder their burden, I've done my share of grumbling. I've grudgingly covered for those who are physically or financially or emotionally broken. And in my robust and injury-free existence, I complained about having to do other peoples' jobs as well as my own. It's mighty tempting for the physically fit servicemember and leader to hold contempt toward his subordinates who are physically broken. It's easy to view them as the sick, lame, and lazy. Those who have never been under the heel of humiliating circumstances will have a difficult time empathizing with others who can't carry their load.
Switching Places
But it's then that we need to ask ourselves: "Would I like to trade places with that other person? Would I prefer to be the broken person, the grieving person, or person beset with problems?" God could easily arrange such a switch. He could very quickly put me under the burden of suffering—for my own good! For it will teach me humility and compassion for others. But it will be a painful lesson.
I've seen it 100 times. I've seen the ruthless commander and the unsympathetic leader who says to his soldier, "I don't care how sick your child is. You've still got a mission and you need to 'man up' and do your job." Then I've seen circumstances reduce the ruthless supervisor and put him in his subordinate's place.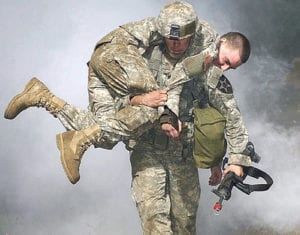 So be careful. God is very capable of teaching us the painful lesson of compassion and humility. So which shall it be? Do you want to be in a position to help or to be helped? Do you grumble because you have to cover for others who struggle? Who are derailed in life, who are injured in body and mind, or are overcome by problems? Then ask yourself, "Do I want to trade places with that person?" If not, then stop grumbling and start thanking God for how He's blessed and protected you.
Paul's Words of Wisdom
In the Scripture, Paul said, "In everything I've done, I have demonstrated to you how necessary it is to work on behalf of the weak and not exploit them. You'll not likely go wrong here if you keep remembering that our Master said, 'You're far happier giving than getting'" (Acts 18:35, The Message).
PRAYER:
Dear Father in heaven, I thank You for placing me in a position to help, to bless, and to give. Help me to see my blessed position and my obligation to share my abundance and to help shoulder the burdens of others. Amen.
---
In article photo: CSA-2006-09-27-084710-1.jpg by U.S. Army licensed under CC BY 2.0