A well-known pastor, Robert Jeffress, appeared on the news and was asked what he would say to the grieving families of victims in the Las Vegas shooting on Sunday, October 1, 2017. Certainly, he would just tell them, "Hey, evil exists in the world, but God is good."
The pastor's response was worth repeating. He answered with an illustration, making the point that we need to hold on to what light we have in order to get us through the storm.
He and his wife were traveling in West Texas at night when a fierce thunder storm struck with terrible downpours. Visibility was nearly non-existent and it was impossible to even follow the road. How did they manage to make it home? When a tractor-trailer rig passed their car, they pulled up behind it—close enough to see its tail lights—and followed its lights until they got through the storm.
Maybe you've had a similar experience, when driving through fog or through a downpour. You've had to latch onto what light you have until you get through the worst of it and sky is clear once again.
Spiritual Storms
What light do we have in the middle of our spiritual storms, when confusion envelops us, when God seems silent, and when problems overwhelm us?
God's Word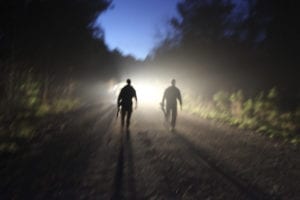 We have the light of God's infallible word. It assures us of God's unfailing love for us (Rom. 8:31–39) and that He will never fail us or abandon us. "Just as I have been with Moses, I will be with you; I will not fail you or forsake you" (Josh. 1:5). That promise was first made to Joshua, but was applied to all of God's children in Hebrews 13:5—in the context that God will provide for our needs and protect us.
Sometimes when we are confused by the darkness, we are tempted to throw away what light we have. This is especially true if we feel God has failed us and let us down. Satan will accuse God to us and try to get us to abandon our faith. But we must never do that. God is the very best friend we have and we need him now more than ever. Don't cast off the only One who can help you and turn your night to day.
His Past Faithfulness
We also have the light of God's past faithfulness to us. This is the reason why God's word commands us to give thanks and to forget none of His benefits (e.g., Ps. 103:1–2; 1 Thess. 5:18). Remembering and recounting God's acts of faithfulness to us in the past helps us keep our sanity and inspires faith in our most difficult times. Thanksgiving reminds us that God has always provided for and protected us in the past, and that He has not changed His policies nor revoked His promises. Each one of us has a treasure trove of memories of God's faithfulness to us. We need to dig into that treasure and revive those memories. It will brighten our path.
Jesus' Sympathy
We also have the light that Christ has walked this very same journey before us and He knows exactly the measure of our pain and heartbreak. "In all our afflictions, He is afflicted" (Isa. 63:9). We are assured that Jesus is our great High Priest who can sympathize with our weaknesses since He was tempted in every way as we are, yet He never sinned (Heb. 4:15). Whatever sorrow, rejection, or disappointment you suffer, Christ feels it with you and will give the grace to endure and overcome—just as He did (John 16:33). Thus, we are never alone. Christ is with us, and so He promised:
"Do not fear, for I have redeemed you; I have called you by name; you are Mine! When you pass through the waters, I will be with you;
and through the rivers, they will not overflow you. When you walk through the fire, you will not be burned, nor will the kindle upon you.
For I am the Lord your God, the Holy One of Israel, your Savior" (Isa. 43:1–3).
God is in Control
We also have the light that God has every circumstance of our lives under His control and that He will cause all events—both the pleasant and the painful—to work together for our good (Rom. 8:28). This is why Joseph could say to his brothers, who had been so cruel to him, "You intended it for evil, but God intended it for good" (Gen. 50:20). Tribulation is not lethal to us. Paul the apostle and James both tell us that tribulation produces a Christ-like character in us (Rom. 5:3–5; James 1:2–4).
Hope of Heaven
And, most importantly, we have the light of Heaven—our final deliverance from pain, corruption, life's storms, Satan's temptations, human frailty, and death (Rom. 8:18–23; Rev. 21:3–7). It was for the glory and joy of Heaven that Jesus Christ endured the horrors of the cross. And He commands us now to fix our eyes on Him and follow Him that we may share His glory and live with Him forever (Heb. 12:2–3).
PRAYER:
Dear Father in heaven, in my times of darkness please help me to cling to the light of Your word, Your past faithfulness, Your empathy, Your sovereignty, and Your future home for me. Grant that I may not be hardened by the adversities of life or abandon my faith because of the devil's accusations. Save me, O Christ. I am yours. Amen.
---
In article photo: Raising the Stakes by the U.S. Marines licensed under CC BY-NC 2.0
Chaos in Darkness by licensed under CC BY 2.0