There was little about Paul to indicate that he would ever amount to much of an athlete.
The people of his hometown, Toccoa, GA, remember him as only a mid-sized young man of five feet nine and a half inches tall. Paul was large enough to play on the high school football team. However, he was far from the largest or strongest.
Add to this that he was afflicted with Bright's disease and the image of a frail child emerges. Bright's disease is a chronic kidney ailment that has taken the lives of such people as famous lawman Bass Reeves, poet Emily Dickenson, President Chester Arthur, and the first wives of both President Theodore Roosevelt and President Woodrow Wilson. At one point this chronic illness put young Paul in coma. He had to be hospitalized for several weeks. Even after his recovery, doctors demanded that his parents restrict his physical activities.
After high school, Paul briefly attended Furman University in Greenville, but dropped out to move back with his parents. Yet it was in his parent's garage that Paul began to lift weights and develop himself physically.
But these were not the "store bought" type of barbells. He couldn't afford anything like that. Paul either made his own from concrete and a steel bar, or lifted other things like heavy iron wheels and metal safes filled with rocks. Neither did Paul learn any of the standard techniques for lifting, but always used his own crude style. Nor did Paul ever wear anything but cheap tennis shoes (if not going barefoot), nor knee wraps, nor lifting belts when he trained.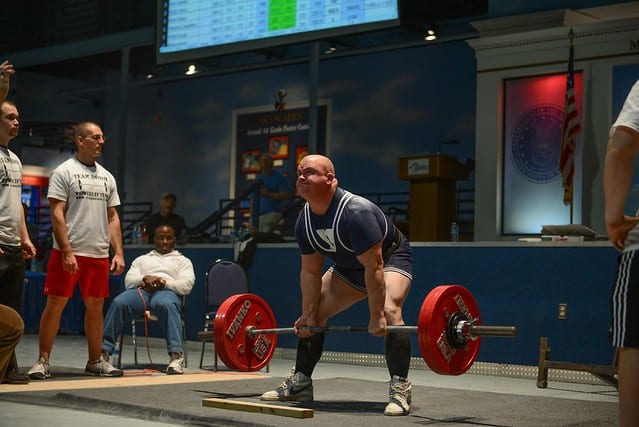 Yet Paul Anderson would go on to be widely recognized as "the strongest man in the world." Despite his limited stature, history of health problems, and lack of formal training, Paul Anderson broke dozens of decades-old weight-lifting records. His laurels included winning two national weight-lifting championships, the world's weight-lifting championship in Munich of 1955, and the Gold Medal during the 1956 Olympics in Melbourne. His records include a full squat of 1,206 lbs., a bench press of 628 lbs., a clean and press of 485 lbs., and a back lift of 6,270 lbs.
Paul credits all his success to God. In fact, it was during the 1956 Melbourne Olympics that a personal crisis led him to call out to God for help. He was running a 104 degree fever and felt too weak to compete. Paul Anderson had come all the way to Australia to compete in the Olympics. Now, he was as weak as a kitten. He confessed his sins to God and asked the Lord's forgiveness. Better than that, Paul committed his life to Jesus Christ. As a result he felt a wave of God's presence come over his soul and a renewed strength to his body. He went on to compete and win the Gold Medal for the United States.
Paul Anderson continued to do power lifting and demonstrations of his strength. But it was no longer to glorify himself, but to testify of Christ's saving power. In 1961 Paul and his wife Glenda founded the Paul Anderson Youth Home for troubled children. He continued this ministry until his death in 1994. In addition to this Paul Anderson traveled widely around the country, giving as many as 500 exhibitions and presentations of the gospel in a single year. His recurring testimony to public school and college students was this:
"I've been called the strongest man in the world, yet I cannot survive one day without Jesus Christ in my life."
God seems to delight in taking the least likely to succeed among humanity and fashion them for greatness. To David, the greatest of Israel's kings, God said, "I took you from following the sheep to leading a nation" (2 Samuel 7:8). God took the fisherman Peter—who never seemed to find success at catching fish (Luke 5:5; John 21:3), and made him a "fisher of men" who caught tens of thousands of people (Acts 2:14–41; 3:1–4:4). The Bible is full of men and women who from weakness were made strong by their faith in God (Heb. 11:32–34). God delights in taking zeroes and making them heroes (1 Cor. 1:26–31).
PRAYER:
Dear Father in heaven, into Your loving and capable hands I commit my life and all that I am. Please forgive me, cleanse me, and transform me. Take the raw material of my life and fashion me into the person of Your dreams. Amen.
---
Information from: Documentary, "Paul Anderson: the strongest man in recorded history"
In article photo: Georgia Guardsman Breaks State Powerlifting Record and Sets Sights on Armed Forces Records by the U.S. Air Force licensed under U.S. Govt. Work