In January 2015 Kaleb Whitby was traveling east on Interstate 84 on his way from the Washington Tri-City area (Pasco-Richland-Kennewick) to Council, Idaho.
The weather was terrible – fog and a freezing mist had covered the road surface with a glaze of black ice. As he began his descent from the crest of a hill, he suddenly came upon a tractor-trailer jackknifed across the left side of the highway. He tried to swerve right to avoid it, but the front end of his Chevy Silverado pickup hit the corner of the trailer and spun him around. He was OK, but now his motor had died and the passenger side of his truck now faced oncoming traffic from behind.
Then he saw them. The lights of an oncoming tractor-trailer heading straight for him. With its horn blasting, the oncoming semi had no choice but to swerve right to avoid Whitby's truck and the jackknifed semi to his left. But a collision was unavoidable.
Knowing that death was imminent, Kaleb closed his eyes and prayed to God for mercy – and kept praying as the semi crashed upon him. If the situation wasn't bad enough, Kaleb's truck became sandwiched between the two clashing trailers. They formed a giant hand-held nutcracker – with Kaleb's truck as the crushed nut. Never was Kaleb's prayer so short yet so fervent.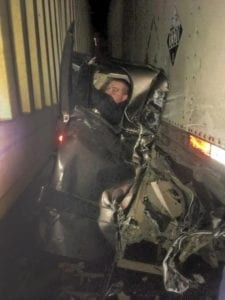 And God answered it. Kaleb was alive and conscious. With his Leatherman he cut away the seatbelt to wiggle away from the steering column that was now pushed against his hip. But that's as far as he could get. He was trapped like a sardine. Then another semi appeared from behind. But this driver stopped his vehicle on the side of the road and tried to assist Kaleb. But the sight he saw inspired him to snap a photo of Kaleb's crushed pickup. This photo is compelling proof that God hears and answers "last-second prayers."
Within 30 minutes Kaleb was freed from his "sardine can" and only required two Band-Aids on one of his fingers. His truck looked like a rolled up ball of tinfoil, but he was fine. Once freed, he began assisting rescue workers to save the lives of other motorists involved in a pile-up ahead of him. For Kaleb this was the most appropriate response for God sparing his life. In a CNN interview Kaleb stated that he believes God saved his life for a purpose – other than to be successful in business and make money. And now he's seeking God to find that purpose.
You know, I've watched a lot disaster documentaries and videos of storm chasers. What disturbs me are the reactions of people when they are in a terrible crisis, sometimes moments before death. Too often what spews from their mouths, just before death, is a stream of profanity and vulgarity.
What will come from our lips just before disaster? Profanity, cursing the only name that can save us? Or, a prayer to God for help? Hopefully, it will be a prayer, for God answers us in the moment of trouble. "Call on me in the day of trouble. I will deliver you, and you will honor Me" (Psalm 50:15). "Before they call I will answer; while they are still speaking I will hear" (Isaiah 65:24).
PRAYER:
Dear Father in heaven, please teach me to pray – so that prayer will be my first impulse in trouble rather than my last resort. Amen.
---
(Information from: http://www.oregonlive.com/pacific-northwest-news/index.ssf/2015/01/interstate_84_semi-truck_crash_1.html#incart_big-photo; http://www.cnn.com/2015/01/18/us/oregon-crash-survivor/)