The year was 1453.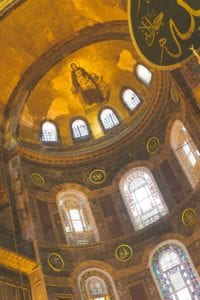 Many consider it the darkest year for Christianity. That was the year Christianity's capitol—Constantinople—fell to the Islamic Turks. In a matter of a few months thousands of Christians either died for their faith or converted to Islam at sword point. To worsen the church's pain, the crown jewel of all churches—Sancta Sophia—was turned into a mosque.
But unforeseen by anyone was the series of events that this tragedy set in motion—events that would ultimately lead to the greatest thrust of the gospel the church had ever seen. For the fall of Constantinople forced explorers and adventurers to find alternate routes from Europe to Asia. European kingdoms desired to restore the flow of Asia's precious silks, jewels, and spices. Therefore, they sought a way to bypass Turkey to the Spice Island of Indonesia by sea.
The New World
Forty years later there appeared a Genoese explorer who was convinced he could reach the East by sailing west. And with a name that meant "One who bears Christ," he believed he had a divine mission. His mission was not merely to open trade routes to the East, but to bring the gospel to the heathen. The man was Christopher Columbus. Columbus never did reach the Indies. But he, and all who followed him, driven by the need to find new trade routes to the East, unwittingly brought about the greatest triumph for the gospel of Jesus Christ.
For the fall of Constantinople ultimately brought the Christian faith to the new world and planted the seeds that would providentially generate the most powerful champion for the gospel in its 2000-year history—America. This country sends more Christian missionaries world-wide than any other nation (127,000 of an estimated 400,000—Brazil is a distant 2nd place with 34,000 missionaries to its credit). In the Scriptures God promised, "Be still and know that I am God; I will be exalted among the nations; I will be exalted in the earth." (Ps. 46:10) And never forget Christ's own promise: "I will build My church and the gates of hell will not prevail against it." (Matt. 16:18)
PRAYER:
Dear God, help me not to lose heart when evil seems to triumph. Remind me that You shall build your church and the gates of hell will not prevail against it (Matt. 16:18). Amen.
---
Information from Derrick Johnson, The Wonder of America and, "In a 200-year tradition, most Christian Missionaries are American," Reuters, February 20, 2012.
In article photo: (untitled) by Meriç Dağlı licensed under Unsplash