Its scientific name is Armillaria ostoyae, a.k.a. honey fungus. Above ground, it appears as harmless clumps of mushrooms—mushrooms that can be found in any yard or garden.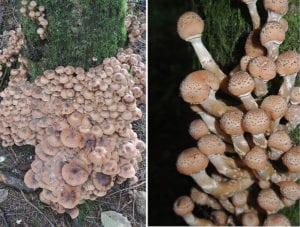 But in Oregon's Malheur National Forest something strange was happening. Trees and plants were dying everywhere. All that remained in their place were innocent-looking clumps of honey mushrooms here and there. Could the little honey mushrooms be responsible? Say it ain't so!
But it was. As researchers inspected the soil of this extensive area of dead or dying trees, they found a monster. Many consider it the largest living thing on earth—and the oldest (possibly up to 8,000 years old). It is a massive infection of the honey fungus—a single living thing that has spread its tentacle-like roots over an area of 2,200 acres, killing all trees and plants in its path. On the surface, it only appeared as harmless little mushrooms. But an underground killer was taking his toll.
Human's Disease
Humanity also has an infection, not of the honey fungus, but the deadly disease called sin. Of course, on the surface, it will look innocent enough. In our infancy and early childhood, it might pop as something innocent, even amusing—anger, greed, or self-centeredness. But ultimately, if allowed free expression up to adulthood, it will prove a destructive force in our lives.
In a nation, this "innocent monster" might express itself as materialism, idolatry, racism, or violence. But those are just the symptoms. Beneath the surface is the creeping root of sin which must be subdued by God's law or be uprooted by the transforming power of Christ. But if unrestrained, it will destroy both individuals and nations.
But Jesus Christ has the power to deliver us from sin. By His death on the cross and His resurrection from the grave, Jesus He condemned sin's power and reign in humanity (Rom. 8:3–4). Through His death and resurrection, we can die to sin and be raised to newness of life (Rom. 6:3–7). Only Jesus, the great physician, can administer the cure to our soul's disease and save us from our sins (Matt. 1:21; Col. 1:19–23; 2:9–15).
So which will it be, eternal destruction or everlasting life? "For the wages of sin is death, but the free gift of God is eternal life through Jesus Christ our Lord" (Rom. 6:23). Open your heart and life to Jesus Christ. Let Him do His miraculous work in you. He promises to give us a new heart, tender and responsive to Him (Ezek. 36:26). He promises to send His Spirit into our hearts to motivate us and empower us to do His will (Ezek. 36:27). He promises to deliver us from all sin and corruption, and to make us fit for eternal life in heaven (Phil. 1:6; 3:21).
PRAYER:
Dear Father in heaven, please deliver me from the power of sin by the Resurrection power of Your risen Son. Please forgive my many sins. Please cleanse me in Jesus' blood. Lord, please change my heart and fill me with Your Spirit. Give me both the desire and strength to overcome the deadly infiltration of sin. Make me fit for heaven, I pray. Amen.
---
Information from John Lloyd & John Mitchinson, The Book of General Ignorance, p.5.
In article photo: Armillaria ostoyae by Dick Culbert licensed under CC BY 2.0