Promotion is a wonderful celebration of hard work and perseverance; a reward for dedication and commitment to something bigger than yourself. It is a time to be thankful for family, friends, coworkers, and supervisors who support you and make it possible for your promotion.
It also provides opportunities for greater responsibility and prestige. But promotion doesn't always make things better. In fact, it can lead to bigger problems in your personal life. It can lead to a lack of peace and contentment.
Military members think of peace as the absence of conflict and a result of a successful military campaign. Peace in our heart and soul is much harder to achieve. It seems even more so with each successive promotion. I should know because I lost that sense of peace and contentment by the time I reached my highest rank. I began to focus on the credit going to me rather than others. In Biblical terms, I began to live for my own glory rather than the glory of God.
I may have looked good on the outside, but inside my heart was a dry and dangerous place. It was like I had become a bougainvillea plant.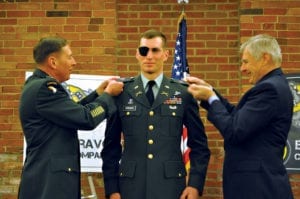 That may sound like a weird metaphor, but bougainvillea plants are a useful example of what promotion can do to the heart. These shrubs are showy, flowery, and hardy. They are virtually pest and disease resistant and need very little water. When things heat up, they grow even faster. The problem comes when you try to cultivate them because their long, sharp thorns are toxic and can cause rashes. They are pretty to look at but they are painful to control.
My last promotion became a bougainvillea in my heart. The new rank was pretty to look at but I was not in control of my heart. I was living for myself rather than others.
I even tried to convince myself that I had peace and sought out people who would tell me I had peace. But it was ineffective and unsuccessful. There is a way back and Hebrews 13:20-21 lays out the path: "Now may the God of peace who brought again from the dead our Lord Jesus, the great shepherd of the sheep, by the blood of the eternal covenant, equip you with everything good that you may do his will, working in us that which is pleasing in his sight, through Jesus Christ, to whom be glory forever and ever."
Taking this verse in reverse order provides the path toward true peace. It ends with the only One who can grant us peace. We start with committing ourselves to live for the glory of Christ.
Glory may not be a familiar term to some, but think of the honor and prestige we give to Medal of Honor recipients. Their gallantry and courage in the face of extreme circumstances distinguishes them as special and we highlight that with a medal, ceremony, and continual recognition.
Christ's life, crucifixion, and death are worthy of such honor and we should live to highlight His work in the same way we do with Medal of Honor recipients.
We then honor Christ and give Him glory by working and doing things that are pleasing to God. In these verses, we are promised to have the equipment for that task. On the battlefield, we are equipped better than any military force in the world to accomplish that which is pleasing to our country. The same is no less true for God, the Great Logistician. He has given us objectives to accomplish in His Word and as a Shepherd (think Commander), He helps us achieve those objectives.
Being equipped warriors for Christ and doing things that are pleasing to Him will bring us purpose and meaning that cannot be taken away. When we have that purpose and meaning, we will then have peace. There is no better time than now to seek the peace that comes only from Him.
---