In preparation for its annual "Missions Sunday," the church I attend gave a briefing on a few of the forty churches it helped establish around the world. One of these churches included a congregation in the city of Basra, in southern Iraq.
In Iraq, neither Christians nor their churches are expected to have long lifespans. Persecution from Islamic radicals is widespread and fierce. But this church, built on the banks of the Tigris River, isn't letting that get in the way of its plan to reach Muslims with the gospel. Located near the Iran-Iraqi Border, this church plans to train ministers to evangelize in both countries.
At this point in the briefing, a rather sobering bit of information was revealed. A critical part of the ministerial training this Basra church gives to its prospective pastors is a course on "How to die for Christ." This is no joke. The teachers teach the student ministers to expect to die violently. They receive instruction on how to face torture and death for their faith.
Though the details of the course curricula were not presented, I can imagine what subjects might be included. Students are probably given the raw statistics and history of Christians murdered in Islamic countries. They might also hear from believers who were tortured for their faith, but survived. I suspect it includes the teachings of Jesus and the apostles on facing persecution and death. It certainly must focus on what the Bible says about death, the afterlife, and eternal rewards. Maintaining a deep prayer life must also be a big emphasis.
Not Included
I can also imagine what subjects have no place in this training course on "preparing for martyrdom." For instance, "prosperity gospel" subjects are probably omitted. There'll be nothing in this training about "having your best life now." Nothing about "maximizing your finances" would be included. In the face of torture and martyrdom such teaching has no relevance. Such ideas are exposed as worldly and worthless.
I think I can also guess what types of ministerial students are not enrolled in this course. For instance, none of the students are likely to view the ministry as "a career" or as an opportunity for self-fulfillment. None of them are "in it for the money." Nor do any of the students envision themselves standing on a platform before hundreds of adoring fans. They're not likely to be in the ministry to receive praise from people. You see, the certainty of suffering and death has a powerful purifying effect on our motives. The imminence of persecution and death drives us to God and makes us focus on heaven.
Military Training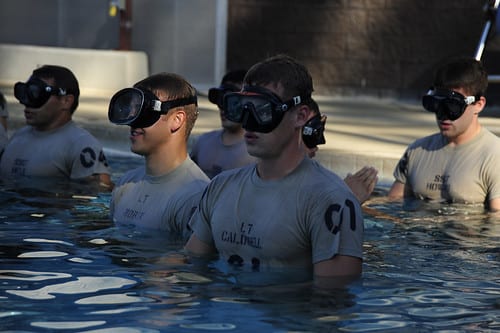 It amazes me that, in all my time in the Army, I received almost no training on how to face death on the battlefield. Eventually, the Army came up with the seven values, one of them being "personal courage." Maybe senior leaders believed it would be demoralizing to tell Soldiers there's a strong likelihood they'd never return home from a deployment.
I think the prevailing school of thought was patterned after General George S. Patton's admonition, "Nobody ever won a war by dying for his country. We win wars by getting the other son of a b**** to die for his country!" One of my commanders once told me, "War is the ultimate game in which 'coming in second' is never an option." But I don't think the average servicemember can envision war as a game. He or she knows they'll be shooting at a target that shoots back.
I'll tell you this much. If we did teach servicemembers how to face death and the carnage of battle, we'd probably have fewer careerists in our ranks. We'd have fewer politicians and men-pleasers. We'd have more people willing to risk their military careers by standing up for what's right. People would know what they're getting themselves into and would complain less during harsh and realistic training.
Confidence in God
Christian believer, let's take to heart what Jesus told us. "I say to you, My friends, do not be afraid of those who kill the body and after that have no more that they can do.  But I will warn you whom to fear: fear the One who, after He has killed, has authority to cast into hell; yes, I tell you, fear Him! Are not five sparrows sold for two cents? Yet not one of them is forgotten before God.  Indeed, the very hairs of your head are all numbered. Do not fear; you are more valuable than many sparrows.  And I say to you, everyone who confesses Me before men, the Son of Man will confess him also before the angels of God; but he who denies Me before men will be denied before the angels of God" (Luke 12:4–8).
St. Peter wrote, "Since Christ had to suffer physically for you, you must fortify yourselves with the same inner attitude that he must have had. You must realize that to be dead to sin inevitably means pain, and you should not therefore spend the rest of your time here on earth indulging your physical nature, but in doing the will of God" (1 Peter 4:1–2, J. B. Phillips Translation).
PRAYER:
Dear Father in heaven, here and now I confess my weakness before You. I am not able in myself to face the adversity, pain, and death that my Christian testimony may bring. So please, dear Father, empower me and embolden me by Your mighty Holy Spirit. Help me to get my priorities straight, to abandon worldly pursuits, and to focus on heavenly rewards. Draw me into a deeper walk with You and make me equal to whatever challenge awaits me. Amen.
---
In article photo: Training for Special Tactics by the U.S. Air Force licensed under U.S. Govt. Work