"You prepare a table before me in the presence of my enemies…" (Psalm 23:5)
Unhindered Provision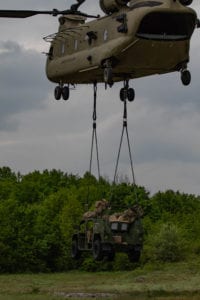 I've always viewed this verse as describing God's ability to provide an abundance of blessings in the most difficult and dangerous circumstances.  In fact, the very same language ("preparing a table") is used in Psalm 78:19.  There it is spoken by the unbelieving Israelites in the wilderness.  They mock God and say, "Can God prepare a table in the wilderness?"  In other words, "Can God spread a banquet table decked with food out here in the desert?"
The answer is, yes.  God can prepare a banquet table in the wilderness, if that's what it takes to feed 2.5 million people in the wilderness.  God will do whatever it takes to sustain His people, particularly His people's faith.  And millions of persecuted and afflicted saints would testify to the truthfulness of this verse.
But as I read this verse the other night, a different application came to mind.  I thought about the typical response of the complaining believer.  "Lord, why do You prepare such a feast when I'm surrounded by enemies and too nervous and jittery to eat it, much less enjoy it?  Why don't You provide such blessings when everything is going smoothly, when I can relax and relish the moment?"
Be Still!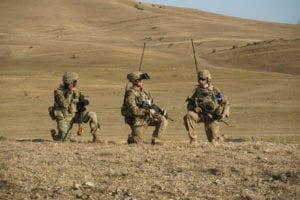 Of course, David had been saying, "Even though I walk through the valley of the shadow of death, I will fear no evil, for You are with me;  Your rod and Your staff, they comfort me" (Psalm 23:4).  David's point is that God has proven Himself so trustworthy that he can even relax enough in the presence of his enemies to consume and enjoy God's blessings.  But for most of us, this skill remains unlearned and unmastered.
But it's imperative that we do master it.  For life on this planet will never be free of predators and threats.  There'll always be something to give us nervous indigestion or to rob us of our joy – if we allow it.  We cannot hold our breath and wait until everything's going right.  We can't pause our living, our happiness, and our giving thanks to God until life is free of blemishes.  Otherwise we'll never live, be happy, or give thanks.  We've got to learn the lesson of resting in God and enjoying His blessings in the here and now.
Stress and Strawberries
You've heard the Buddhist story of the man who was chased by the tiger to the edge of a cliff.  To escape the tiger he climbed down a vine.  But at the foot of the cliff was another tiger, waiting for him to fall.  So there the man was, suspended between the tiger above him and the tiger below him.  Then, to make matters worse, two mice crawl out on the vine above him and begin gnawing away at it.  But in the middle of this dilemma, the man sees a strawberry plant growing on the side of the cliff, filled with ripe strawberries.  Despite the dangers and distractions, the man smiles, picks and eats the strawberries, and savors their sweetness.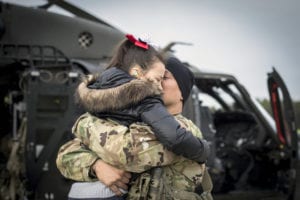 Now, I realize that Buddhism gives a different interpretation to this story, particularly Zen.  But for most us, this story applies to the current discussion.  Amidst all of life's troubles and dangers we cannot allow God's blessings to be overlooked.  We cannot allow the constant companion of adversity to rob us of our joy and gratitude.  We must learn to rest in God and enjoy His blessings (Psalm 37:7).
It might help us to do this if we remember that Christian believers are not suspended on a vine between two tigers.  It may seem like that to us.  But we've got to immerse our minds in the truth of God's word.  God's word tells us that "the eternal God is our refuge and underneath us are His everlasting arms" (Deuteronomy 33:27).  God is always there to catch us, should we fall.
Shield of Faith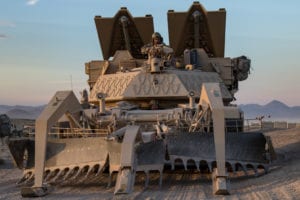 It will also help us to remember that God is a shield that protects us on all sides.  There are numerous passages in the Bible that describe God as our all-encompassing shield and armor (Genesis 15:1; 2 Samuel 22:18; Psalm 3:3; 5:12; 7:10; 18:2, 35; 28:7; 33:20; 91:4).  We must understand that God is an impregnable force field, though an invisible one, that always stands between us and our enemies.  Nothing can get at us without getting through God.
Oh, my fellow traveler, let's immerse ourselves in God's infallible promises.  Let's learn to be like David.  Let's master the lesson of learning to rest in God's power and love to the point that, even when surrounded by enemies, we can enjoy God's blessings and give Him thanks.
PRAYER
Dear Father in heaven, please teach me to rest in Your power and love.  Please teach me to count Your blessings and to enjoy them to the fullest.  Train me, O God, to have a perpetual attitude of gratitude and to always give You thanks.  Amen.
---
Photos:
-https://www.flickr.com/photos/soldiersmediacenter/40935034793/
-https://www.flickr.com/photos/soldiersmediacenter/48496490256/
-https://www.flickr.com/photos/soldiersmediacenter/45731596885/
-https://www.flickr.com/photos/soldiersmediacenter/48086498978/