The year was 1792. The place was France.
King Louis XVI and Queen Marie Antoinette were incarcerated and awaiting execution during the French Revolution. During that time of tumult, thieves broke into the Royal Storehouse and stole most of the crown jewels. Among the stolen jewels was a fabulous 67-carat blue diamond, named the French Blue. The diamond's whereabouts remained a mystery for two decades.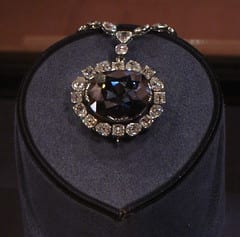 When the French Blue finally surfaced, it was in the possession of Englishman Daniel Eliason. But investigators found that someone drastically altered its appearance. It seems that one of the thieves, Cadet Guillot, had the stone cut into a completely different shape, from triangular to round. In the process the diamond shrank from 67 to 45 carats. Guillot did this to disguise the diamond to avoid detection and his own arrest. Now referred to as the Hope Diamond, the blue gem never returned to France. Instead the Hope Diamond passed through a series of English and American owners until it landed in the Smithsonian Institute, its present location.
Guillot's attempts to re-shape and disguise the diamond only succeeded in cheapening it. His attempts to keep what didn't belong to him reduced his life to a stressful ordeal and reduced the stolen gem to 67% of its original weight and value. Eventually, Guillot's efforts to cling to the stolen diamond ended in failure. He lost the diamond to a creditor and ended up in a debtor's prison.
Fugitives
I recall watching a program entitled I Almost Got Away with It. This program featured the stories of fugitives from justice. Those who after a capital offence conviction fled while out on bail and sought new identities and new lives.
Their efforts to avoid capture worked for a while. But even for those who were the best at "getting away with it," life was terribly lonely and stressful. They could not contact their families without risking detection and capture. Day after day they ran scared, perceiving a threat around every corner and behind every stare. For most, this kind of life was not worth living. They were all fugitives from justice and they knew their freedom was not theirs, but the state's. And their efforts to possess what didn't belong to them cheapened the lives they clung to.
Some of the fugitives turned themselves in to find peace of mind. Others, when caught, breathed deep sighs of relief.
Turn yourself in to God—and you'll not only find perfect peace. You'll find true freedom.
In a way all people are fugitives from God. He has first claim to our lives, our freedom, our gifts, and our talents since He created us. And when we cling to that which rightfully belongs to God and use them for our own selfish pursuits, we'll experience the same lack of peace as a fugitive from justice. We'll cheapen our lives like the man who mutilated a fabulous diamond only to disguise it. The Scripture reminds us "'There is no peace', says my God, 'for the wicked'" (Isa. 57:21). Jesus promises, "Peace I leave with you; My peace I give to you,… Let not your heart be troubled, neither let it be afraid" (John 14:27). He also said, "Come to Me, all of you who toil and are heavily burdened, and I will give you rest" (Matt. 11:28).
Rest from your running and worrying. Flee into Christ's loving arms and be at rest.
PRAYER:
Dear Father in heaven, here and now I acknowledge You as my Creator and the One to Whom I owe everything. I am so weary of running from You and never knowing the abundant life that Christ promised. Help me, O Lord, to flee into Your loving arms. Forgive me and save me, for Christ's sake, Amen.
---
Article photo: Hope Diamond by Matthew Hurst licensed by CC BY-SA 2.0